UK to Lead Multidisciplinary Effort to Develop Next-Gen Batteries, Energy Storage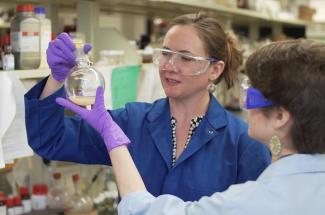 When it comes to portable electronic devices, such as cell phones, laptops, tablets or smart watches, how often do we feel frustrated because the battery is about to die, or because it doesn't last as long as it did a few months ago?
Chad Risko, an associate professor of chemistry and affiliated faculty researcher at the Center for Applied Energy Research at the University of Kentucky, says this simple context shows the value in creating better batteries. But it is not just small portable electronics that need more robust, and differentiated, energy storage.
"Electric and hybrid vehicles are becoming more omnipresent, and here we need batteries that are lighter in weight, safer and can store ever more energy," Risko said. "Further, as our nation's energy production continues to diversify to include more renewable, yet geographically scattered and intermittent sources (e.g., wind, solar, hydro, thermal), we need reliable ways to store the relatively large amount of generated energy at the source before it is transmitted for use. Our personal and professional lives, transportation and even national security can find substantial benefit through better energy storage."
To address this need, Risko is leading a multidisciplinary research effort aimed at accelerating the development of safe and reliable energy storage. The nearly $4 million, four-year project, titled "Data-Enabled Discovery and Design to Transform Liquid-Based Energy Storage," or D3TaLES, seeks to create new domain knowledge in materials science for the creation of next-generation batteries. The project is being funded by the National Science Foundation (NSF)-sponsored Established Program to Stimulate Competitive Research (EPSCoR).
"Energy storage in batteries, at its heart, is chemistry — it's electrochemical energy storage," Risko said. "We need to design a battery so that it can charge over and over again without losing efficiency, can store a large amount of energy in a small space and prevent other chemical reactions that may lead to safety concerns. Balancing these traits, with myriad other considerations, including the vast chemical space that can be explored to create a new material or reaction, presents an intriguing set of challenges."
The D3TaLES team brings together a wealth of experience from across multiple disciplines, including expertise in materials design, characterization and deployment for energy storage applications, computational materials chemistry, autonomous experimentation and data analytics and machine learning. By developing and making use of robotic synthesis and characterization techniques, which will be informed and driven by machine learning, the team aims to create a large experimental dataset.
"We intend that the chemical space traversed by these activities will be much larger than what could be covered by traditional wet-bench chemistry methods so that we can discover materials for batteries that may have been otherwise missed," Risko said.
The project is formed by researchers who already have longstanding and successful collaborations within the team, which will assist with building the critical dynamic needed to address the challenge at hand.
One of the researchers is Susan Odom, a UK associate professor of chemistry who studies low-cost energy storage systems, specifically liquid-based battery technologies, or redox flow batteries. Odom says the field of redox flow batteries has advanced tremendously in the last 10 years but is still not commercially viable for widespread adoption. Identifying lower cost materials with improved performance is needed to open the doors to market this important technology.
"Advances made through traditional approaches by individual researchers has led to a slow pace of progress simply due to the lack of rapid turnaround of information," Odom said. "Robotic testing of a diverse set of materials will lead to more rapid discovery of promising chemistries for liquid-based technologies."
Liquid-based energy storage systems perform the same function as lithium-ion batteries. However, they are designed to store energy on a much larger scale. They are less energy dense than solid-state batteries, making them more suitable for grid-based energy storage without the risk of safety hazards, such as overcharge and thermal runaway.
"Liquid-based technologies are not subject to this dangerous mode of failure and thus have appeal for large-scale storage," Odom said.
Current chemistries used in redox flow batteries rely on vanadium complexes, but according to Odom, there simply isn't enough vanadium in the world to meet the growing needs of storage, and alternative chemistries are crucial to the success of this technology. The D3TaLES team hopes to identify these types of chemistries through their project.
"By tailoring these materials at the molecular level, we can access new chemistries that can lead to higher voltage batteries than what is currently on the market — an important factor in reducing the footprint of these large-scale storage systems," Odom said.
Another important aspect of D3TaLES is its workforce development program. In one project, the team will recruit and train undergraduate students from predominantly rural communities to increase their participation and retention in the STEM workforce.
"We want to bring students from rural communities into research labs that focus on energy-related problems to develop the next generation of energy researchers," Risko said. "We seek to engage students early in their academic careers to show them the impact that they can have by pursuing these kinds of endeavors. These same students will be able to return to their communities and engage their families and friends about the importance of energy creation, use and storage, and have important conversations that will shape our nation's energy supply for decades to come."
Odom, a UK alumna from Beech Grove, Kentucky, says offering these opportunities early is critical for retaining students in STEM. She knows from personal experience.
"As a rural Kentuckian, I had never met a Ph.D. scientist before coming to UK as an undergraduate student," Odom said. "I am hoping to offer our undergraduates opportunities to expand their horizons through research experiences."
In addition to UK, the D3TaLES team includes researchers from Eastern Kentucky University, University of Iowa, Iowa State University, Cornell College and the University of Northern Iowa.