UK Libraries Welcomes Princeton Scholar Ruha Benjamin for Fall Lecture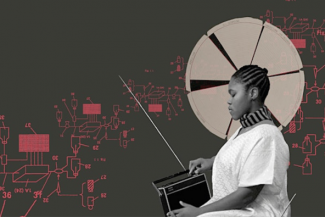 Next week, University of Kentucky Libraries will welcome Princeton University Professor of African American Studies Ruha Benjamin, who will present "Race After Technology: Abolitionist Tools for the New Jim Code."
This in-person lecture will take place 4 p.m. Tuesday, Oct. 12, in the Worsham Cinema in the UK Gatton Student Center. This event is free and open to the public.
Drawing on her work examining the social dimensions of science, technology and medicine, Benjamin's talk will present the concept of the "New Jim Code" to explore a range of discriminatory designs that encode inequity: by explicitly amplifying racial hierarchies, by ignoring but thereby replicating social divisions or by aiming to fix racial bias but ultimately doing quite the opposite. Benjamin will help the audience consider how race itself is a kind of tool designed to stratify and sanctify social injustice and discuss how technology is and can be used toward liberatory ends.
This presentation will take the audience into the world of biased bots, altruistic algorithms and their many entanglements, and will provide conceptual tools to decode tech promises with sociologically informed skepticism. In doing so, it will challenge the audience to question not only the technologies they are sold, but also the ones they manufacture themselves.
"We're launching this lecture series to explore trends and issues impacting research libraries and the communities that use them. I cannot think of a better speaker to kick off this initiative," said Doug Way, dean of UK Libraries. "In libraries, we like to view ourselves as neutral facilitators of access to information, but nothing we do is truly neutral. Dr. Benjamin's work is of keen interest to us as we grapple with biases in seemingly neutral tools and systemic structures that oppress and perpetuate inequities."
In addition to serving as a professor in the Princeton University Department of African American Studies, Benjamin is also the founding director of the IDA B. WELLS Just Data Lab; a faculty associate in the Center for Information Technology Policy, the Program on History of Science, the Center for Health and Wellbeing and the Program on Gender and Sexuality Studies; and a member on the executive committees of the Program in Global Health and Health Policy and the Center for Digital Humanities. Benjamin has written or edited three books and is currently working on a fourth, titled "Viral Justice: How We Grow the World We Want."
For more information or to register for this event, visit: https://bit.ly/RuhaBenjamin.
As the premier research library in Kentucky, UK Libraries empowers lifelong learners to discover, create and connect by providing ever-expanding access to quality information and collaborating with academic and creative communities worldwide to advance knowledge, enhance scholarship and preserve the history and culture of the Commonwealth. More information about UK Libraries can be found on its website.