UK's Dixon and Whitaker appointed to Lexington Human Rights Commission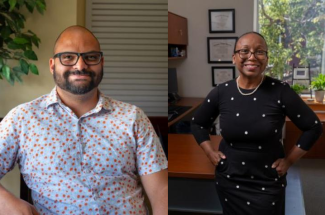 Two members of the staff and faculty at the University of Kentucky have been appointed to the Lexington Human Rights Commission.
Alex Dixon, senior decision support analyst in the UK Office of Vice President for Research (OVPR), and Ateba Whitaker, lecturer in the Department of Management in the Gatton College of Business and Economics, received the appointments following a recommendation in August from Lexington Mayor Linda Gorton's office.
The mission of the Lexington Human Rights Commission is to safeguard the legal rights of individuals from discrimination in connection with employment, housing and public accommodation.
"I'm honored to serve on the Lexington Human Rights Commission," Dixon said. "As someone who believes in the philosophy of servant leadership, I want to give back to the community, demonstrate empathy and help give a voice to those who are marginalized, oppressed or ignored."
Dixon joined UK in 2014 and oversees the execution of research administration reporting and data visualization in the Office of the Vice President for Research. Outside of UK, Dixon coaches high school girls soccer at Bryan Station High School and supports local nonprofits, particularly those focused on creating design and technology opportunities for underserved populations.
Ateba Whitaker recently joined UK and teaches social enterprise development and human resource management in the Gatton College of Business and Economics. She also serves on the college's diversity, equity and inclusion board.
"I moved to Lexington in May and hit the ground running to find out how I can serve in the community," Whitaker said. "I'm excited to be a part of the Lexington Human Rights Commission. I stand firm in the belief that one person's human right shouldn't circumvent the right of another."
Whitaker is the founder and chief education officer of Unreasonable Kids College, a nonprofit organization that educates K-12 youth and addresses social justice issues in education in low socioeconomic areas. She is also serving as a co-coordinator and workshop teacher at the 2023 Clean Slate Lexington Expungement Conference & Clinic.
Dixon and Whitaker are part of the commission's 14 members. In addition to its investigative function, the commission has a full-time community relations program individually designed for an employer, housing provider or the general public.