UK's Sherali Zeadally Named Among Most Highly Cited Researchers in the World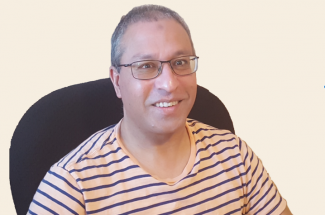 Sherali Zeadally, in the College of Communication and Information at the University of Kentucky, has been named one of the most highly cited researchers in the world.
Zeadally, an associate professor and University Research Professor in the School of Information Science, is the first UK researcher since 2014 to be named to the Highly Cited Researcher annual list published by Clarivate, The Web of Science Group.
Clarivate's annual list of Highly Cited Researchers recognizes the world's most influential researchers of the past decade. Researchers are selected for their exceptional performance in 21 fields of the sciences and social sciences — that includes agricultural sciences, social sciences, biology, biochemistry, chemistry, clinical medicine, computer science, economics and business, engineering, environment, ecology, geosciences, immunology, materials science, mathematics, microbiology, molecular biology and genetics, neuroscience and behavior, pharmacology and toxicology, physics, plant and animal sciences, psychiatry, psychology and space science — and a further cross disciplinary category.
Those recognized have demonstrated significant and broad influence reflected in their publication of multiple papers, highly cited by their peers in the past 10 years. These highly cited papers rank in the top 1% by citations for a chosen field or fields and year in Web of Science. Of the world's population of scientists and social scientists, the Web of Science Group's Highly Cited Researchers are one in 1,000 or fewer than 0.1% of the world's researchers who have earned this exclusive distinction.
This year, researchers from more than 60 countries have been recognized — including Zeadally in the field of computer science. He is one of 124 computer science researchers worldwide recognized this year and one of only 13 researchers from the United States.
"We are proud of Dr. Zeadally on this exceptional achievement," said Dean Jennifer Greer of the College of Communication and Information. "He is highly prolific, and this honor shows that he is among the elite researchers in his field making an impact worldwide."
Zeadally's expertise is in the areas of cybersecurity, privacy, the internet of things and computer networks. He has published more than 420 peer-reviewed publications. He has received more than 50 awards/honors/prestigious fellowships nationally and internationally for his research, teaching and service in his career.
"This worldwide recognition is a big surprise for me," Zeadally said. "I feel honored to be on this very prestigious list of 2020 Highly Cited Researchers in the world and to be recognized by one's peers for the quality of work I have conducted with my research collaborators. I have been extremely fortunate to work with exceptionally talented students, postdocs, junior and senior faculty colleagues around the world throughout my academic career. I take this opportunity to share this achievement with all of them for their efforts, dedication and hard work they have put into our research collaborations without which this award would not be possible.
"This prestigious award belongs to the University of Kentucky. I would like to thank my colleagues at the University of Kentucky for all their support and encouragements in my research."
About Web of Science
Web of Science is the world's most trusted and largest publisher-neutral citation index, powering global discovery and citation analytics across the sciences, social sciences, and art and humanities. With over 1.4 billion cited references going back to 1900 and millions of users per day — from leading government and academic institutions and research-intensive corporations — the Web of Science citation network serves as the foundation for the Journal Impact Factor, In Cites and other powerful and trusted citation-impact measures. The Web of Science helps researchers, research institutions, publishers and funders discover and assess the citation impact of over a century of research publications found in the most prestigious books, conference proceedings and journals.