UK's Zhang named IEEE Fellow for robotics and automations research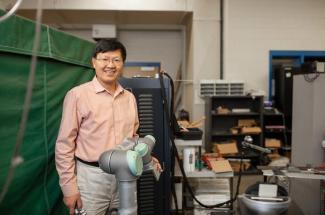 YuMing Zhang, James R. Boyd Professor in the College of Engineering at the University of Kentucky, has been named a 2023 Institute of Electrical and Electronics Engineers (IEEE) Fellow.
Zhang was among 319 researchers who were selected. The recognition is given to eminent scholars and scientists who have made substantial contributions to research and teaching.
This demonstrates a distinction for the profession that required peer nominations and approval by the IEEE board of directors. An average of 300 members are selected each year, and the number of elected members shall not exceed 0.1% of the current year's total number of IEEE members.
The award recognizes Zhang's achievements in and contributions to robotized welding manufacturing through machine-vision-based intelligence. His research on intelligent robotic and human-robot collaborative welding systems has been supported by the National Science Foundation (NSF), among many other national industries. Zhang has received 12 U.S. patents and published more than 200 peer-reviewed journal papers.
"Welding is a major manufacturing process that often imposes physical, training and health challenges to workers. Robots provide the foundation to automate this process, but how far it can go depends on if robots can be as smart as skilled welders," Zhang said. "My research at UK has focused on improving machine intelligence for welding. This is a continuous effort over the last 30 years, and I'm happy that it's been recognized by the prestigious IEEE robotics and automation community."
Zhang is an editor for the Journal of Manufacturing Processes. He is also a former chair of the American Welding Society's (AWS) technical papers committee.
Additionally, Zhang was previously elected as a fellow of the AWS, the American Society of Mechanical Engineers (ASME) and the Society of Manufacturing Engineers (SME).
Zhang, who started his research at UK in the Institute for Sustainable Manufacturing (formerly the Center for Robotics and Manufacturing Systems) in 1991 and joined the Department of Electrical and Computer Engineering at UK in 1999, also prides himself on being an engaged educator. Five of his graduate students won the International Institute of Welding (IIW) Henry Granjon Prize in 2008, 2012, 2013, 2015 and 2019.
In addition to teaching, Zhang is the director of international partnerships in the college. He works to promote relationships with educational institutions for student and faculty exchanges and joint research projects.