University Press of Kentucky Publishes Updated Edition of 'Contemporary Public Health,' Featuring COVID-19 and Opioid Epidemic Additions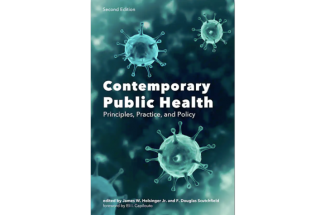 The University Press of Kentucky is publishing the second edition of "Contemporary Public Health: Principles, Practice, and Policy" featuring a foreword by University of Kentucky President Eli Capilouto and new material centering on the impact of COVID-19 and the opioid epidemic.
The book is edited by UK faculty members Dr. James W. Holsinger Jr. and Dr. F. Douglas Scutchfield.
Designed as a supplemental text for introductory courses in public health practice at the undergraduate and graduate levels, "Contemporary Public Health" provides historical background that contextualizes the current state of the field and explores the major issues practitioners face today. It addresses essential topics such as the social and ecological determinants of health and their impact on practice, marginalized populations, the role of community-oriented primary care, accreditation, and the organizational landscape of the American public health system.
Finally, the new edition examines the opioid epidemic, the impact of pandemics including COVID-19, and and explores the potential of systems based on multilevel partnerships of government, academic and nonprofit organizations.
Featured are contributions from scholars and practitioners Julia F. Costich, Richard C. Ingram, Samuel Matheny, David Mathews, Glen P. Mays, Paul K. Halverson, Kaye Bender, Kate Beatty, Melissa White, Michelle Lofwall, Robert McCool, Angela Beck, Emily Youatt, Roosa Tikkanen, Robin Osborn, Stephen C. Schoenbaum, Rachel Hogg-Graham, W. Ryan Maynard, Kevin Brady, Stephen W. Wyatt and Paul Kuehnert.
Dr. James W. Holsinger Jr., is chancellor emeritus and professor emeritus in the UK College of Public Health. A graduate of the university, he is a member of the College of Public Health's Hall of Fame. Holsinger served as chancellor of the University of Kentucky Medical Center from 1994 to 2003, and secretary of the Kentucky Cabinet for Health and Family Services from 2003 to 2005.
Dr. F. Douglas Scutchfield, a UK graduate, is the Peter P. Bosomworth Endowed Professor of Health Services Research and Policy in the Department of Health Management and Policy in the UK College of Public Health. Scutchfield is a founder of the UK College of Public Health.
The University Press of Kentucky is the scholarly publisher for the Commonwealth of Kentucky, representing a consortium that includes all of the state universities, six private colleges and two historical societies. The press' editorial program focuses on the humanities and the social sciences. Offices for the administrative, editorial, production and marketing departments of the press are found at the University of Kentucky, which provides financial support toward operating and publishing expenses.​