Women Making History: UK researcher champions cultural understanding in health care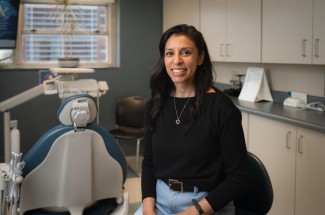 Throughout March, the University of Kentucky is spotlighting Women Making History during Women's History Month. These women are leading their fields of research and impacting the lives of Kentuckians.
Their work addresses key issues impacting the Commonwealth, like cancer, Alzheimer's disease and diabetes. They also offer new perspectives on history by finding ways to preserve our collective memory and better understand it.
One University of Kentucky researcher's work is rooted in helping people understand how cultural values and health beliefs can play a role in various health disparities. Julie Plasencia, Ph.D., began her career studying Type 2 diabetes. Her research interests have expanded to diet-related health disparities in low-resource communities and how culture influences dietary behaviors in Latino communities.
"I have this overarching goal to help individuals with diabetes control the disease and have better health outcomes. It guides what I do," Plasencia said.
"There are many ways I can accomplish this as a registered dietitian and researcher. One is through patient-focused research. Another is by working to enhance the cultural competency of current and future health care professionals. For example, understanding what patients can do to care for their health that falls within their cultural traditions."
As an assistant professor in the Department of Dietetics and Human Nutrition in the College of Agriculture, Food and Environment, Plasencia teaches undergraduate and graduate students how to be sensitive and aware of cultural values and health beliefs.
"When a patient can work with somebody who understands them or at least acknowledges that there are these other factors impacting their food and health choices, they're probably going to have more equitable care and outcomes," said Plasencia.
One example of understanding a cultural value is recognizing that in the Latino community often the family's health is seen as more important than the individual's health. As a result, the food preparer in the home may make diet-related choices prioritizing the family's preferences versus their health needs. By acknowledging that, health care professionals can provide more personalized recommendations that focus on the individual's health while considering what the whole family will enjoy.
"Better understanding cultural values to help patients meet their health outcomes without asking them to shed their traditional foods or culture is really important," said Plasencia.
In her practice as a dietitian, Plasencia was able to use her lived experience to provide better care for her Latino patients. Through understanding her strengths, she identified a need for other dietitians without similar first-hand knowledge.
"Recognizing that gap motivated me to get into research," said Plasencia. "I want to know how we can help other people with diabetes have the same longevity and good health my dad had because he was really good at managing his Type 2 diabetes after he was diagnosed in his 50s."
In 2020, Plasencia was awarded a five-year grant from the National Institute of Food and Agriculture, part of the U.S. Department of Agriculture, for the "Bridge Scholars Program - Bridging Disease Prevention Through Nutrition Focused Education In Community Clinics."
Plasencia is training undergraduate students majoring in dietetics and human nutrition and providing them with opportunities to participate in research, shadow clinicians in the colleges of Dentistry and Medicine to learn how interdisciplinary teams work, and improve their professional skills.
"All of my experiences – from peer mentoring to fellowship programs – came together in this grant from the National Institute of Food and Agriculture," said Plasencia. "It's an opportunity for me to mentor students individually and connect them with faculty across the university to provide mentorship."
Some of Plasencia's most rewarding experiences are the combination of her work with students and researching ways to improve patient health outcomes through nutrition.
"I recognize I'm in a very female-dominated field. One of my goals is to help other women and other health care professionals provide the best care and most equitable nutrition counseling to patients, regardless of differences we have."
As she continues to help women in her areas of interest, she encourages future researchers to align professional goals and personal values.
"For me, aligning research with what I value helps me sustain my work and choose the projects I'm willing to commit to. It gives me the motivation to continue when things get hard," said Plasencia. "And for women interested in research, don't give up if it's not quite what you were thinking. There are so many different types of opportunities in research and a small change may help you to realign with your values."
Plasencia was a first-generation student without the expectations to earn a Ph.D. or conduct research. She says every accomplishment throughout her journey has been one of her proudest moments, and when she needs motivation, she looks to her family.
"I was inspired to go into nutrition and to become a registered dietitian because my dad had Type 2 diabetes growing up. And my mom is a big reason I've succeeded where I am, mostly because she's just given me that example of being brave and bold and willing to take a leap of faith. She came to the U.S. by herself as an immigrant and didn't have family to help her. She had to overcome every obstacle along the way on her own. Her example has always been a source of strength for me."
This material is based upon work that is supported by the National Institute of Food and Agriculture, U.S. Department of Agriculture, under award number 2020-67037-30669. Any opinions, findings, conclusions or recommendations expressed in this publication are those of the author(s) and do not necessarily reflect the view of the Department of Agriculture.