YuMing Zhang honored as a 2023-24 University Research Professor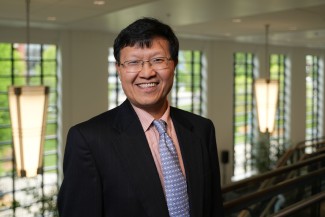 YuMing Zhang, Ph.D., James Boyd Professor in Electrical Engineering and UK Stanley and Karen Pigman College of Engineering director of International Partnerships, is one of 16 University Research Professors for 2023-24. The University Research Professorships honor faculty members who have demonstrated excellence that addresses scientific, social, cultural and economic challenges in our region and around the world.
College leadership develops criteria for excellence within their area of expertise and then nominates faculty who excelled at these criteria. Each University Research Professor receives a one-year award of $10,000.
"The University of Kentucky is a world leader in research and education, and I am deeply honored to be part of its distinguished faculty," Zhang said. "I am thrilled to be further recognized as a University Research Professor, and I am committed to continuing my work in advancing knowledge and making a positive impact on society."
His research focuses on intelligent robotic and human-robot collaborative welding systems as well as robotized welding manufacturing through machine-vision-based intelligence.
Zhang was named a 2023 Institute of Electrical and Electronics Engineers Fellow, recognizing eminent scholars and scientists who have made substantial contributions to research and teaching. He's also been elected as a fellow of the American Welding Society, the American Society of Mechanical Engineers and the Society of Manufacturing Engineers.
Zhang is also the director of both the Welding Research Laboratory and the Applied Sensing and Control Laboratory. His research has been supported by the National Science Foundation, Navy, National Labs and many other national industries.
Since joining UK in 1991, Zhang has received 12 U.S. patents and published more than 200 peer-reviewed journal papers, in which he is among the most frequently cited authors in his area of studies. He has also graduated 23 Ph.D. students.