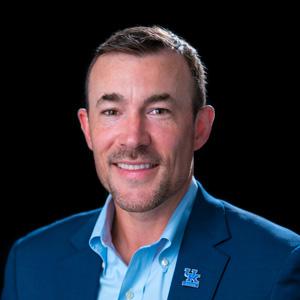 Ian McClure
Associate Vice President for Research

Innovation and Economic Impact

UK Innovate
Ian McClure is the associate vice president for Research, Innovation and Economic Impact at the University of Kentucky where he leads UK Research's efforts to translate UK discoveries for the public good, seek equitable returns on UK intellectual property (IP), develop innovative approaches to develop, fund and support opportunities for near-stage research, seek grant funding to enhance UK's investments in innovation, and expand industry and other collaborative research programs with UK Research and in the state more broadly. 
In this role, Ian is also a PI on two NIH grants, sits on the Board of Directors of AUTM, chairs the Ohio Valley Affiliates for Life Sciences (OVALS), and is a co-founder of Kentucky Commercialization Ventures, a state-funded program to provide IP and tech transfer services to all other universities in the state that do not currently have dedicated IP and tech transfer resources. Ian began his career as a Mergers & Acquisitions (M&A) and Intellectual Property (IP) transactions attorney. Following private practice, he helped build a start-up company in Chicago, IPXI, that was the world's first financial exchange for IP and technology rights, which he led through product development, capital raise, proof of concept and growth to 30+ full-time employees and two offices.  
Previously, Ian was executive director of the Office of Technology Commercialization (OTC) overseeing a staff of 26 and managing UK's intellectual property, commercialization and startup efforts. Ian was Vice President of IP Strategy for Black Stone IP (acquired by Houlihan Lokey), a boutique investment bank headquartered in San Francisco focused on IP-rich M&A and technology-driven transactions. In parallel, he teaches graduate courses on the Law & Business of IP Management at Chicago-Kent College of Law and the University of Kentucky College of Law.  Ian is a founding member of the LES Standards Initiatives' Intangible Assets in the Boardroom committee and has been named one of the World's Leading IP Strategists by IAM Magazine every year since 2012. 
Ian has published extensively in law and business journals related to the intersection of IP, business process, and corporate governance, including with top IP & Technology law reviews such as UC Berkeley, Fordham University, and Santa Clara University. He has presented to numerous symposiums and conferences on IP licensing, valuation, risk, and strategy.  Ian graduated cum laude with a degree in economics from Vanderbilt University, magna cum laude with a Juris Doctorate from Chapman University School of Law, and a Master of Laws in Intellectual Property Law (L.L.M.) from DePaul University College of Law.