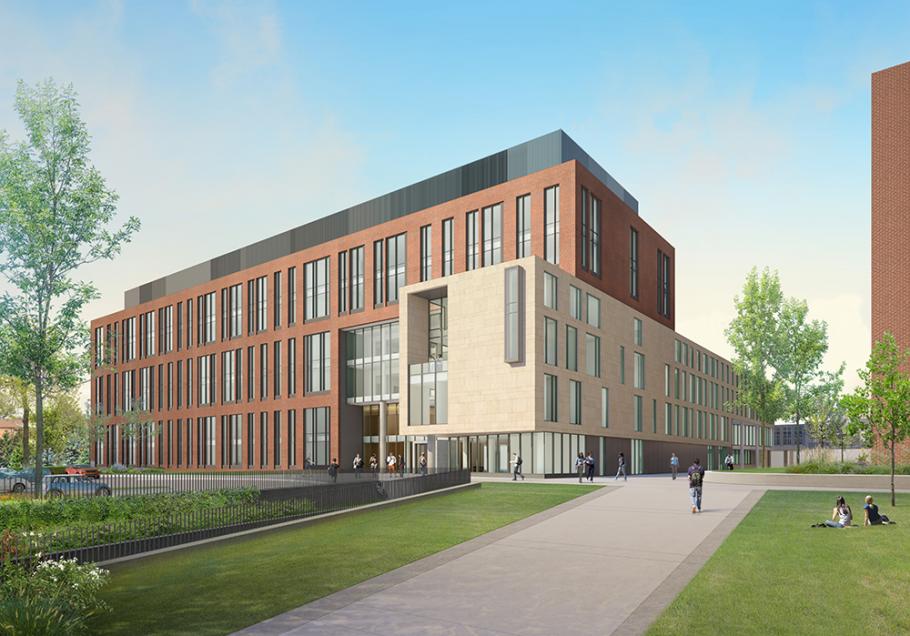 Research Building 2 is a precious resource and a vehicle for the University of Kentucky to reduce the health disparities that most impact Kentucky. This $265 million building (funded half from the state of Kentucky, half from university resources, including private gifts) will open in September 2018. By investing in this state-of-the-art research facility, the University of Kentucky is investing in the health of citizens of the Commonwealth. 
The design of this modern research facility embodies a lifestyle that reduces health disparities, including a healthy food choice restaurant, a room to house bicycles for travel to and from the facility, and prominent staircases to encourage physical activity. Within the laboratories, the design and focus comes with a specific scientific underpinning. Much of discovery today, whether at the cellular or community level, happens at the intersection of disciplines. This facility is designed to foster discovery and collaboration so that what happens in the labs and in the course of basic research can be translated to answers and solutions at the community level.
To foster collaboration, laboratories within the facility are designed as neighborhoods to not only promote communication between researchers, but to create synergy between disciplines. Basic researchers addressing fundamental issues that contribute to chronic diseases will work side-by-side with researchers who approach these intractable problems from a totally different perspective. By placing people, who are working on the same problem—say, cancer—but from different angles (economics, biomedicine, public health), next to each other in a single building facilitates communication and promotes new avenues for problem solving. Through this design, the project will improve the lives of Kentuckians by providing modern space that lends itself to multidisciplinary research that is needed to address Kentucky's entrenched health problems.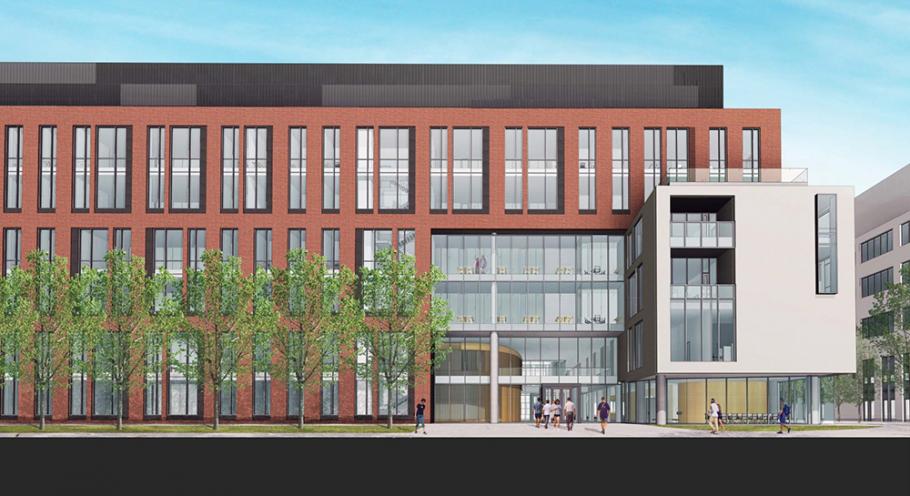 Two unique areas of focus distinguish the building:
Research that focuses on cancer, obesity, diabetes, cardiovascular diseases including stroke, and substance abuse.  These conditions have a major adverse impact on the health of those in the Commonwealth, contributing to death rates from each disease that rank within the top 10 states of the nation.
Multidisciplinary research that approaches the problem from numerous fields and perspectives—basic biomedical research, health services research, public health, behavioral sciences, bioinformatics and big data, economics and engineering—working in close proximity and collaboratively to develop solutions to these complex problems.
While each of these major diseases influence citizens across the Commonwealth, they are of immense concern to our citizens residing in rural Appalachia, a region with some of the most pronounced rates of chronic diseases in the country. Rates of death from cancer in the United States dropped by 20 percent between 1980 and 2014 (data from the Institute for Health Metrics and Evaluation, University of Washington, released February 2017). However, these gains were not distributed equally across the country. Clusters of high mortality were found in many states, including Kentucky, West Virginia, Alabama and Alaska. Four main factors drive these disparities: socioeconomic status, access to health care, quality of health care available, and prevalence of risk factors, such as smoking, obesity and lack of physical activity. The Appalachian region of Kentucky experiences a perfect storm of these factors driving disparities. A primary focus of research within the new facility will be determining factors that drive more disease risk and burden in Appalachia, and developing preventive and therapeutic approaches that are optimized to have greater benefit to those living in this region.
The new research facility will be at the heart of modern research facilities all linked together, including the Biological Biomedical Research Building (BBSRB) and the Lee T. Todd, Jr. Building (formerly the BioPharm Building). The location of the facility, which will link all three buildings in complex, further fosters collaborative and multidisciplinary research. The connecting conduit building, serving as the spine of the complex, has been named the Appalachian Translational Trail, as it will house the nucleus of translational researchers who bring together all disciplines.
The real power of research is realized in bringing different groups of experts together. Our current experts and top talent recruited to the University of Kentucky, working together in this new faculty, will make important discoveries and that are translated to the community to help Kentuckians live healthier lives.
What Collaborative Research Space Means
Overall Design
6 floors of wet laboratory space (96 benches)
4 floors for researchers within the connector building (234 offices total), called the Appalachian Translational Trail, that goes from RB2 to BBSRB
Full modern vivarium (animal facility) in basement
Shared-use core facilities (imaging, behavioral, metabolic) that house cutting-edge equipment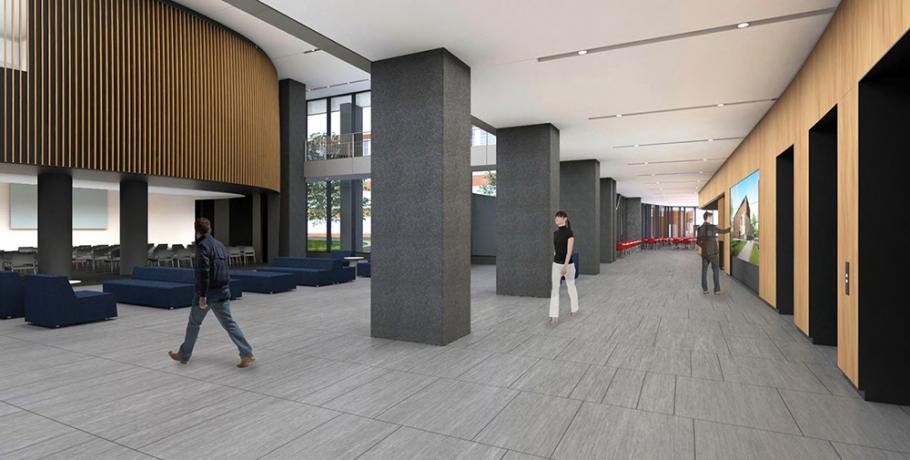 Auditorium & Meeting Spaces
100 seating capacity auditorium that opens to atrium on 1st floor
2nd floor conference rooms
Meeting rooms on each floor
Collaborative spaces on each floor to promote communication and create synergy
Healthy life-style restaurant on first floor
Bicycle room with showers on 1st floor connector to BBSRB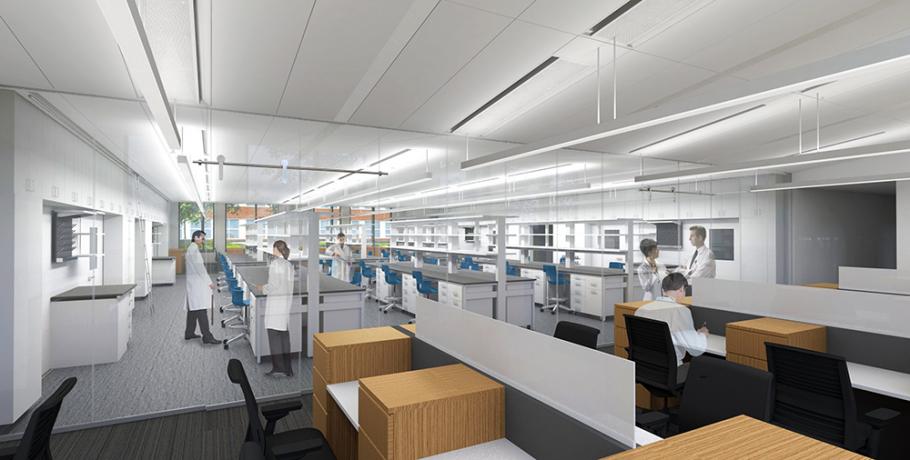 Neighborhood Basic Research Laboratories
Most floors have 3 neighborhoods (6 laboratory benches in each neighborhood)
Benches are flanked by procedure rooms that house specialized equipment
Glass between lab space and sitting areas for personnel for open lighting
Faculty offices flank corners of each neighborhood
Linear equipment hall down the center of each floor within laboratory areas to improve efficiency of operations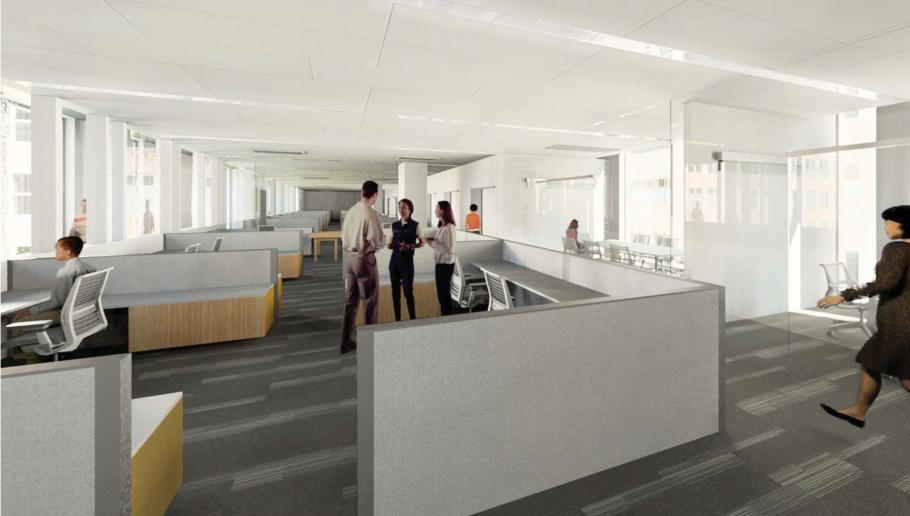 Appalachian Translational Trail Connector Building
Shaded glass to separate offices from corridor
Offices along windows
Personnel in carrel areas outside of each office
Behavioral research suite on 2nd floor
Computational research suite on 2nd floor
Shared use of eating & collaborative spaces between basic laboratory and these researchers to promote multidisciplinary communication
Proximity to Other State-of-the-Art Research Buildings
The Appalachian Translational Trail to the BBSRB, which connects to the BioPharm building, will enhance access and connectivity of our leading-edge research labs.
The proximity to the medical campus will allow clinicians who see patients in our clinics and hospitals to collaborate with scientists and scholars from many different disciplines.
How We Will Know that RB2 is a Success
This building gives UK an opportunity to attract and recruit top talent that is needed to address these complex health disparities. We will grow our research enterprise to focus on the most critical health needs of Kentucky.
With purposeful communication between disciplines engaged in these health disparities, along with new talent recruited to the institution to add depth in approach, we should see an increase in complex, multidisciplinary research proposals.
That increase in high-quality, collaborative proposals should lead to an increase in federal and state research grants and contracts.
We will translate basic science findings to clinical practice and to the community to fight these devastating health disparities and improve the quality of life for Kentuckians.