Diversity, Equity, Inclusion, and Accessibility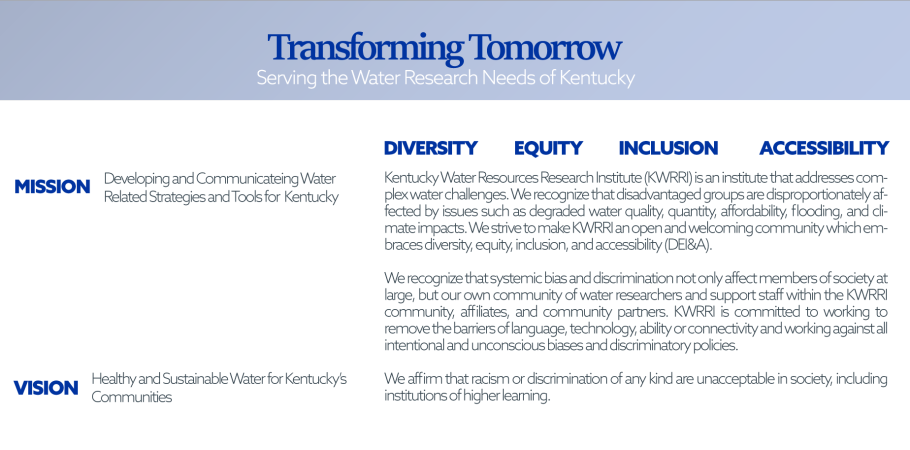 KWRI Releases Requests for Proposals for FY 2023 USGS 104b Grant Program
On February 10, 2023, KWRI released the FY 2023 Request for Proposals for the U.S. Geological Survey's (USGS) 104b grant program. The deadline to apply is March 24, 2023, at 5:00 p.m. Click on "More Information" below to access the RFP and required templates.
Our Sponsored Research
One of the most important ways that KWRI supports research is through the administration of the USGS Annual Base Grant program authorized by the provisions of section 104b of the Water Resources Research Act of 1984. Under Section 104b of the Water Resources Research Act, annual base grants are awarded to serve the needs of the state, region and nation by supporting and encouraging research and technology transfer in the area of water resources. 
Learn More
Our Projects
KWRI has been engaged in projects across the Commonwealth since its inception in 1964. The Institute often works on projects related to watershed management, water sustainability, and water infrastructure.
Learn More
Our Annual Symposium
Each year, KWRI sponsors the Kentucky Water Resources Annual Symposium. The symposium brings together researchers, personnel from local, state, and federal agencies, undergraduate and graduate students, participants from volunteer groups and NGOs, and members if the public.
Learn More