16 Students Selected for Inaugural CURE Fellowship Program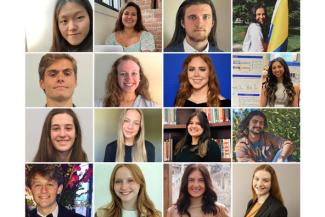 The Office of Undergraduate Research is honored to announce that 16 undergraduates have been selected for the 2022 Commonwealth Undergraduate Research Experience (CURE) Fellowship program.
The new CURE Fellowships, sponsored by UK Office of Undergraduate Research (OUR) and the Office of the Vice President for Research, empowers undergraduates to become leaders for their respective communities by providing opportunities to develop new knowledge and skills through research within UK's seven Research Priority Areas (RPAs): cancer, cardiovascular diseases, diabetes & obesity, diversity and inclusion, energy, neuroscience and substance use disorder.
"Conducting summer research will provide me with valuable experience that will further develop my skills as a researcher and ultimately launch my career as an academic researcher," said Lidia Olyha, an Honors junior neuroscience major who is working with mentor Michael Bardo, Ph.D., in the College of Arts and Sciences' Department of Psychology. "Working in the laboratory over the summer will enhance my proficiency on the subject matter of substance use disorders and help in further understanding specific biological and psychological mechanisms that govern substance use disorders."
Students selected as CURE Fellows received a $3,000 stipend to support their research endeavors during the summer 2022 term. Fellows will engage in a research project under the guidance of a mentor associated with one of the participating RPAs. Students will interact with the other fellows in their cohort during the summer research period and present their research at the Summer Research Symposium on Aug. 31, 2022.
UK's 2022 recipients of the CURE Fellowship are:
Cancer Research Priority Area
Rebecca Ahn, Honors junior biology major; Mentor: Jill Kolesar, Ph.D., Markey Cancer Center

Berina Halilovic, junior biology major; Mentor: John D'Orazio, Ph.D., College of Medicine, Hematology and Oncology
Cardiovascular Research Priority Area
Alana Kassis, Honors sophomore human nutrition major; Mentor: Analia Loria, Ph.D., College of Medicine, Pharmacology and Nutritional Sciences
Diabetes & Obesity Research Priority Area
Madison Hayes, junior human nutrition major; Mentor: Makenzie Barr, Ph.D., College of Agriculture, Food and Environment, Dietetics and Human Nutrition
Diversity and Inclusion (UNITE) Research Priority Area
Olivia Baron, junior psychology major; Mentor: Eric Weber, Ph.D., College of Education, Educational Policy Studies and Evaluation

Valeria Calderon Triana, Honors freshman computer science major; Mentor: Joseph Burger, Ph.D., College of Arts and Sciences, Biology

Daniela Rodriguez Soto, Honors freshman management major; Mentor: Kimberly Parker, Ph.D., College of Communication and Information, Integrated Strategic Communication
Energy Research Priority Area
Jackson Butcher, Honors junior computer science major; Mentor: Simone Silvestri, Ph.D., College of Engineering, Computer Science

Jenna Rector, junior chemistry and neuroscience major; Mentor: Doo Young Kim, Ph.D., College of Arts and Sciences, Chemistry
Neuroscience Research Priority Area
Abdallah Sher, freshman neuroscience and computer science major; Mentor: Clare Rittschof, Ph.D., College of Agriculture, Food and Environment, Entomology

Meredith Williams, Honors junior biology major; Mentor: Matthew Gentry, Ph.D., College of Medicine, Molecular and Cellular Biochemistry
Substance Use Priority Research Area (SUPRA)
Joshua Hales, junior psychology major; Mentor: Michael Bardo, Ph.D., College of Arts and Sciences, Psychology

Lidia Olyha, Honors junior neuroscience major; Mentor: Michael Bardo, Ph.D., College of Arts and Sciences, Psychology

Zachary Siegel, freshman psychology major; Mentor: Christal Badour, Ph.D., College of Arts and Sciences, Psychology

Slane Steen, Honors junior psychology major; Mentor: Joshua Beckmann, Ph.D., College of Arts and Sciences, Psychology

Emily Sumrall, junior psychology major; Mentor: Jonathan Golding, Ph.D., College of Arts and Sciences, Psychology