2 Outstanding Undergraduates Selected for UK's Beckman Scholars SUCCESS Program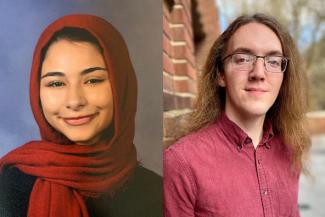 Two undergraduates have been selected as the first recipients of the University of Kentucky's new Beckman Scholars Program, titled Scholars United by Chemistry: Cultivating Excellence through Science Stewardship (SUCCESS).
The Beckman Scholars — Elaf Ghoneim, a neuroscience major in the College of Arts and Sciences and the Lewis Honors College, and Parker Sornberger, a mathematics and chemistry major in the College of Arts and Sciences — will each begin their independent, laboratory research this summer.
The Arnold and Mabel Beckman Foundation's Beckman Scholars Program is a 15-month mentored research experience for exceptional undergraduate students in chemistry, biological sciences and interdisciplinary combinations. UK was selected as one of 14 institutions of higher learning nationally to receive the award this year.
A highly multidisciplinary program, SUCCESS is built on the cornerstone of chemistry as the central science that unites UK's Research Priority Areas, established to serve the pressing needs of Kentuckians and the nation.
Ghoneim will be investigating novel anti-inflammatory drug candidates in the lab of Linda Van Eldik, Ph.D., director of UK's Sanders-Brown Center on Aging and professor in the College of Arts and Sciences Department of Neuroscience.
Last year, Ghoneim participated in the Markey STRONG Scholars Program in the lab of Yvonne Fondufe-Mittendorf, Ph.D., where she investigated the effects of inorganic arsenic exposure on human lung cancer cells. She says after her positive experience studying cancer, she was motivated to explore her other passion of studying the brain.
Ghoneim, who is also minoring in pharmacology, plans to attend medical school in the fall of 2024. She says the Beckman Scholars Program's commitment to diversity resonates with her aspirations to contribute as a minority, scientist and activist.
"I believe diversity and inclusion in the classroom and laboratory are critical for academic and research success," Ghoneim said. "As a Beckman Scholar, I will use my unique experiences and diverse perspectives as resources for problem-solving which will enhance both the program and research at large."
Sornberger is joining the lab of Chad Risko, Ph.D., in the College of Arts and Sciences' Department of Chemistry and at the Center for Applied Energy Research (CAER), where he will be investigating new π-conjugated molecules that are building blocks of materials used in technologies for clean energy production and energy conservation.
"The impetus for this project comes from the ever-growing necessity to develop energy alternatives as well as to reduce energy usage," said Sornberger. "Ultimately, the SUCCESS program would allow me to provide a means for the future development of clean technologies while I further develop my skills as an independent researcher."
After completing his chemistry and mathematics degrees as well as a minor in computer science, Sornberger will attend graduate school, where he will continue to pursue research of materials through computational chemistry and machine-based methods.
Sornberger is an advocate for the representation of fellow LGBTQ+ people in STEM and plans to create a student organization for queer undergraduates in the physical sciences.
"As I do now, I would continue to share my own perspective and experience as a queer researcher to encourage others to pursue their own scholarly work," Sornberger said. "Fundamentally, science should be as accessible as possible to everyone who wishes to participate, and any person capable of improving this accessibility should work towards this goal."
As Beckman Scholars, Ghoneim and Sornberger will receive $21,000 over 15 months: $18,200 for a student stipend and $2,800 to support scientific supply and travel for current research activities. Faculty mentors will also receive $5,000 to support educational expenses.
Each Beckman Scholar must perform research activities part-time during one academic year and full-time over two consecutive summers. They must also complete a required training and professional development series, at least one outreach or service activity during the academic year and mid-program and end-of-program surveys. Scholars will participate in the SUCCESS Roundtable series, present at the UK Showcase of Undergraduate Scholars in April 2023 and attend one Beckman Scholar Symposium.