2022 Undergraduate Research Mentor Award Winners Announced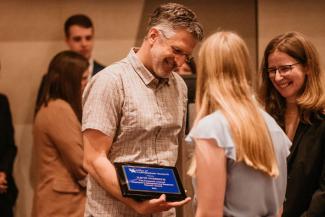 Four University of Kentucky faculty members received the 2022 Excellent Undergraduate Research Mentor Award for their exceptional leadership and support of student researchers.
Presented each year by the Office of Undergraduate Research (OUR), this student-nominated award recognizes UK faculty members who demonstrate an outstanding commitment to mentoring undergraduate researchers, provide exceptional undergraduate research experiences, as well as support and promote the undergraduate research initiatives on campus.
This year, students nominated a record 41 faculty mentors for the award, including four previous award winners. The awards were announced during OUR's 16th annual Showcase of Undergraduate Scholars.
The 2022 award winners are:
Tayo Adedokun, Ph.D., College of Agriculture, Food and Environment; Department of Animal and Food Sciences
"Undergraduate research is important to the University of Kentucky because it's an avenue for preparing future researchers. Students who participate in undergraduate research experiences are more likely to attend graduate school or professional school and are more likely to aspire to research careers," said Adedokun. "I believe that undergraduate research experiences also give students unique opportunities to gain collaborative and team skills and other relational skills that may not be learned in the classroom."
Kendall Corbin, Ph.D., College of Agriculture, Food and Environment; Department of Horticulture
"This award signifies to me that I made a difference in someone else's life for the better and that my student knew that I genuinely cared about them, their future and their success," said Corbin. "Getting the opportunity to help train, support and mentor students is the best part of my job. Seeing them grow more confident in their own knowledge and skills is such a rewarding feeling. It is their successes that make the long days (and failed experiments) worth it!"
David Weisrock, Ph.D., College of Arts and Sciences; Department of Biology
Weisrock was nominated by student Zoe Hert, who said "Dr. Weisrock truly respects undergraduates as independent researchers, providing students with a high amount of freedom to pursue their own interests in his lab. Despite his demanding schedule, he always makes time for frequent communication and meetings with students, during which he provides guidance so that students are not lost within this freedom. His mentorship has been invaluable in my maturation as a researcher, and by far, my time in his lab has been the most rewarding aspect of my undergraduate career."
Michael Wesley, Ph.D., College of Medicine; Department of Behavioral Science
Wesley was nominated by student Caroline Sumner, who said "My mentor made it clear from the beginning that if I so chose, his mentorship would be available long term, and that he would love to see me grow in the lab throughout my undergraduate experience, truly committing to teaching me both the basics of neurobehavioral research and to exposing me to the highly complex world of neuroimaging and behavioral modeling. Dr. Wesley has consistently gone above and beyond to be an amazing mentor and prepare me for my future, as well as further UK research initiatives."
At UK, faculty mentoring is a valued investment and a key ingredient to students' success in the relationships formed between faculty and students. The dedication and mastery of these mentors prepare our students for the rigors of not just their career fields but how they progress professionally and personally.
For a list of this year's award nominees, click here. For a full list of previous award winners, click here.