Abstract submission, registration open for UK's 2022 Food, Energy and Water Symposium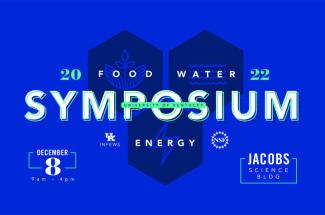 Leaders from across the University of Kentucky, the Lexington community and the Commonwealth will gather to discuss issues that impact all Kentuckians at the 2022 Food, Energy and Water Symposium (FEWS).
Leaders will present and discuss their work on the interconnected research fields at the symposium on Dec. 8. The event will take place from 9 a.m. to 4 p.m., at the Jacobs Science Building.
"The nexus of food, energy and water is one of the most important issues of our time, and I am pleased that we can offer a rich dialogue about these issues through this event," said Eduardo Santillan-Jimenez, Ph.D., program manager at the UK Center for Applied Energy Research and adjunct assistant professor in the Department of Chemistry. "This is a great opportunity for the next generation of leaders in this field — our undergraduate, graduate and postdoctoral scholars — to hear from and share ideas with leading experts in the field."
FEWS is hosted by UK's National Science Foundation Graduate Research Traineeship (NRT) program, which provides UK master's and Ph.D. students an interdisciplinary and international research experience in food, energy and water systems.
Plenary and keynote speakers at the 2022 FEWS include:
FEWS will also feature breakout sessions with oral presentations and a poster session. Opportunities to present a 10-minute talk or a poster are still available.
Individuals interested in presenting must submit an abstract by Nov. 8.
Registration remains open until Dec. 2. You can register at this website.