Barnstable Brown Diabetes Center Names New Acting Director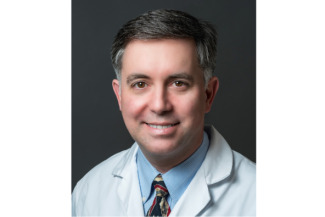 Simon Fisher, M.D., Ph.D., has been appointed acting director of the Barnstable Brown Diabetes Center (BBDC). He assumed this new role at the start of 2022. Fisher is taking over for John Fowlkes, M.D. who took the helm of the BBDC in 2015.
Fisher recently joined the faculty at the University of Kentucky as chief of the Division of Endocrinology, Diabetes and Metabolism and the deputy director of the BBDC. As a diabetologist, Fisher says his goal has always been to reduce the burden of the disease by treating patients in the clinic and the hospital, conducting diabetes research in the lab, and training the next generation of physicians and scientists.
"As the newly appointed acting director of the BBDC, there is now an outstanding opportunity to work with many other extraordinarily dedicated physicians, providers, researchers and educators who share a similar passion for improving the lives of people with diabetes," said Fisher.
Fisher is a highly regarded, distinguished and internationally known clinician-scientist who has served on the faculty of Washington University and the University of Utah prior to joining the faculty at the University of Kentucky.
"The BBDC stands as a beacon of hope for people with diabetes. What makes the BBDC truly great is not its four walls, but rather the people who believe in its mission. It may be that clinical providers and staff who are passionate about caring for people with diabetes instinctively gravitate towards the BBDC or that perhaps the BBDC instills in its faculty and staff a heightened sense of care and compassion for people with diabetes. Either way, it is BBDC's unparalleled collegiality and dedication to improving the lives of people with diabetes that made me want to join the team here."
Expertise in diabetes and endocrinology care remains one of the most requested subspecialty health care referrals from primary care physicians. The BBDC is determined to meet that need and Fisher is looking forward to the challenge of expanding services to meet the needs of all Kentuckians with diabetes and pre-diabetes.
"I would especially like to acknowledge the unwavering support of the Barnstable Brown family and the leadership of UK HealthCare, who, in partnership, had the foresight and vision to create a center that will address the ongoing needs of Kentuckians with diabetes for years to come," said Fisher.