CAER's Hower co-authors pioneering coal book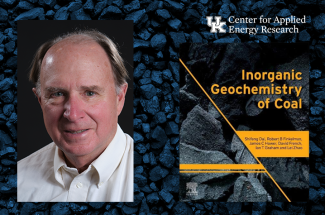 Jim Hower, Ph.D., one of the leading coal petrographers in the world and a distinguished fellow at the University of Kentucky Center for Applied Energy Research (CAER), has co-authored a new book "Inorganic Geochemistry of Coal," released on June 22, 2023.
It is the first English language book on the subject in more than three decades and, for the first time in a publication of this nature, there is a significant focus on critical minerals and rare earth elements.
"One-third of the book is dedicated to critical minerals," said Hower. "Since that topic area has become such a major focus of numerous global industries, we took a deeper look into that subject matter. Critical minerals are driving a lot of interest, and we wanted to help provide some more context and case studies that we hope will be useful to those in the field."
Projects on critical minerals play a pivotal role in UK's new Materials Science Research Priority Area, which aims to improve understanding of relationships between material processing, structure, properties and performance. The RPA also builds upon the work of other UK researchers who are world leaders in recovering rare earth elements.
For this new book, Hower was particularly energized by working with his co-authors and fellow experts whom he has collaborated with for many years, including, Shifeng Dai, Robert B. Finkelman, David French, Ian T. Graham and Lei Zhao.
"I have had several of these authors here to the CAER, even to my house," said Hower. "It was an honor to partner with people for whom I have great respect. I think we assembled a great team and were able to publish an excellent analysis of the geochemistry of coal."
The book is available for purchase at https://shop.elsevier.com/books/inorganic-geochemistry-of-coal/dai/978-0-323-95634-5.