Celebrate UK Innovation at the Third Annual 'Patent Palooza!'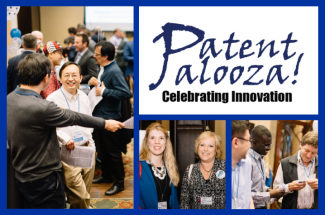 The University of Kentucky Office of Technology Commercialization (OTC) will host its third annual "Patent Palooza!" 4-6 p.m. Tuesday, March 26, in Ballroom 212C of the Gatton Student Center.
"Patent Palooza!" is a fun event celebrating UK innovators, entrepreneurs and startups for their breakthrough discoveries and commercialization successes during fiscal year (FY) 2018. During the event, UK innovators, successful commercialization deals, Small Business Innovation Research and Small Business Technology Transfer (SBIR/STTR) recipients, UKAccel graduates and the National Academy of Inventor (NAI) members will be recognized and honored. The inaugural Lee T. Todd Lifetime Achievement Award in Entrepreneurship will be presented to Lee Todd.
"This annual event is important to our constant effort to cultivate and highlight the innovation culture at UK," said Ian McClure, director of OTC. "There is an incredible amount of amazing discoveries happening all around our university, and we want to recognize this thought-leadership and innovative effort to motivate and breed more of it. After all, it deserves to be celebrated!"
Register for this event and come out to enjoy delicious refreshments, networking with campus and community members, and celebrating UK's accomplished innovators.
FY 2018 brought record-breaking numbers with 101 inventions disclosed, 23 patents issued and 126 active licenses and options. There was $2.35 million in gross royalty income distributed and $5 million in income distributed to inventors in FY 2018, and $14.62 million income distributed to colleges and departments since 2010.
The Office of Technology Commercialization is the technology transfer office for the University of Kentucky. The core mission of the OTC is to facilitate the commercialization of innovations and discoveries for the benefit of the university community, the Commonwealth of Kentucky and global society.