Group working with UK researchers to meaningfully involve people who use drugs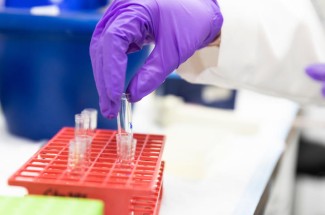 A group of University of Kentucky researchers in the Substance Use Priority Research Area (SUPRA) is working to make studies more responsive and inclusive.
The group formed a community advisory board, called the Survivors Union of the Bluegrass (SUB), including those who identify as people who use drugs and/or people in non-abstinence-based recovery.
"People who use drugs have historically been disconnected from researchers. The goal of the SUB is to meaningfully involve people who use drugs in the development, design and dissemination of research," said Jeremy Byard, SUB chair.
Kentucky has the second-highest drug overdose death rate in the U.S., only behind West Virginia, according to the latest data from the Centers for Disease Control and Prevention.
"With the continued rise in overdose deaths, there is a need for partnership between people who use drugs and researchers to address this pressing issue," said Amanda Fallin-Bennett, Ph.D., associate professor in the UK College of Nursing and co-founder of Voices of Hope, a local nonprofit recovery organization.
SUB is encouraging UK researchers to be involved with the group. Researchers can present their planned or ongoing studies to members and receive feedback on questions, project design, recruitment, intervention design or interpretation of study results.
"People who use drugs are the experts in their own lives and in the needs of their communities. However, oftentimes, people who use drugs report feeling excluded and discriminated against within health care settings. Having this group will strengthen the partnership between people who use drugs and UK researchers and allow for the creation of innovative strategies to address drug-related harm," said Byard.
Leaders said the group has already offered meaningful contributions on a variety of study topics including the use of fentanyl test strips, barriers to medications for opioid use disorder, and reproductive health services.
SUB members represent areas across the Commonwealth and meet virtually once a month.
"We welcome anyone across Kentucky who uses drugs or is in non-abstinence-based recovery to join and help with this important initiative," said Byard.
People who use drugs can sign up to serve on the Survivors Union of the Bluegrass online here. Researchers can sign up to consult with the board here. Questions can be emailed to Amanda Fallin-Bennett (amanda.fallin@uky.edu).
The SUB is funded by SUPRA, the UK Center for Clinical and Translational Science and Voices of Hope.
SUPRA's mission is to prevent and reduce the burdens of substance use disorders through conducting and translating transdisciplinary and innovative research to inform clinical services, public health practice and policy.
The UK Research Priorities Initiative, funded by the Office of the Vice President for Research, encompasses seven priority areas: cancer, cardiovascular diseases, diabetes & obesity, diversity & inclusion, energy, neuroscience, and substance use disorder. These areas were chosen based on local relevance, existing funding strength, sustainability and disciplinary scholarly diversity. Learn more at www.research.uky.edu/research-priorities-initiative.