Health Sciences Team Leading $2.5 Million Multi-Site Ankle Injury Research Project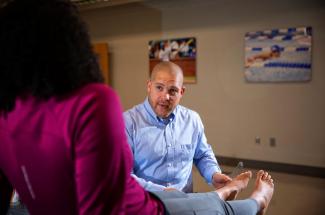 Spraining your ankle may seem like a small injury compared to others, but researchers at the University of Kentucky College of Health Sciences know how something small can develop into larger problems down the road. Now, a team of Health Sciences investigators are collaborating with military researchers at the Naval Health Research Center and faculty at the University of Virginia to find rehabilitative solutions for populations most at risk for chronic and future ankle injuries.
Matt Hoch, associate professor in the Department of Athletic Training and Clinical Nutrition and associate director of the UK Sports Medicine Research Institute, will serve as principal investigator for the $2.5 million multi-site research project. He and his investigative team received a Department of Defense's Clinical Trial Award from the Congressionally Directed Medical Research Programs' Peer Reviewed Orthopedic Research Program for the study, "Optimizing Clinical Outcomes for Patients with Chronic Ankle Instability Using Foot Intensive Rehabilitation (FIRE)."
The four-year project aims to find the best rehabilitative exercises for future ankle injury prevention in young adults who are current, active-duty military service members who have suffered multiple ankle sprain injuries over time. Three different sets of subjects will be tested across the country: A University of Kentucky group consisting of young, physically active adults with a history of ankle sprains, a similar cohort at the University of Virginia and active-duty service members from the Naval Hospital Camp Pendleton in California.
"We are specifically focused on trying to identify the best ways to help people recover from ankle sprain injuries," Hoch said. "These injuries are extremely common among the general public and those who are physically active like our military. Our strategy is to prevent injuries from returning so people are not plagued by constant injury."
"Our group has a long history of working with the military and looking at musculoskeletal injuries specific to ankles," said Nick Heebner, director of the Sports Medicine Research Institute. "This project gives us an opportunity to look at unique rehabilitation strategies to see if we are able to optimize outcomes."
Although many people may believe ankles injuries are mostly benign, the SMRI team discovered evidence that shows these types of injuries increase a person's risk for chronic issues and osteoarthritis.
"We have done a lot of ankle sprain collaborative work. I was shocked when you think it's 'just an ankle sprain' to learn that there are negative outcomes like chronic ankle instability," said Johanna Hoch, assistant professor in the Department of Athletic Training and Clinical Nutrition and collaborator on the project. "Some of our work shows those negative outcomes can impact a quality of life and elevate levels of fear. Other researchers have identified some patients become less physically active."
Through the FIRE method introduced in the study, Hoch and his team intend to develop a unique set of foot-strengthening exercises—that can be completed in clinical settings—requiring little-to-no extra equipment.
Hoch said the goal is to strengthen the foot, an important structure for ankle rehabilitation. "The foot is our foundation for absorbing and generating force for walking, jumping, landing, etc.," he said. "By strengthening our foundation, hopefully it will allow the body to make changes in balance and provide new interventions."
"Success looks like providing one more block to the model of providing care and the rehab plan that reduces the long-term problems caused by ankle sprains," Hoch continued. "We want our service members to be able to perform their duties to the fullest and our athletes to participate in an active lifestyle for as long as they can."
Hoch highlights he would not be able to complete this project without the help of his team. Co-investigators involved include Drs. Phillip Gribble, Nick Heebner and Johanna Hoch at the UK College of Health Sciences, Dr. John Fraser at the Naval Health Research Center, and Dr. Jay Hertel at the University of Virginia.
"My goal is for the FIRE method to be applied in a clinical setting nation-wide after the project concludes," Hoch said.