Honoring University Research Professor Peter Nelson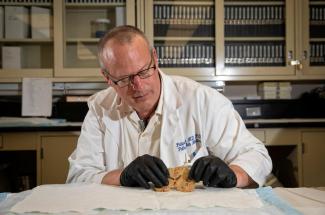 Peter T. Nelson, M.D., Ph.D., professor of pathology and laboratory medicine at the University of Kentucky College of Medicine and director of neuropathology at the Sanders-Brown Center on Aging, has been named one of 14 University Research Professors.
The 2022-23 University Research Professorship Awards honor faculty members who have demonstrated excellence that addresses scientific, social, cultural and economic challenges in the Commonwealth, across the region and around the world.
Individuals who displayed merit in research and scholarly activity within their area of expertise were nominated based on criteria developed by college leadership. Each University Research Professor receives a one-year award of $10,000.
"It is a wonderful honor to be selected as a 2022 University Research Professor," Nelson said. "This is a reflection of the successes of the broader dementia research team here at the University of Kentucky — not just me."
Nelson's grandmother, Sylvia Becker, died with Alzheimer's disease, and he watched his mother grow terrified of developing it in the future. Because of this personal connection to Alzheimer's, Nelson has dedicated his life, and the past 15 years at the University of Kentucky, to developing research that helps combat neurological diseases. During this time, Nelson has produced an impressive list of publications, earning him the distinguished title of University Research Professor.
Most notably, Nelson was a co-chair among the group of international researchers who discovered a new form of dementia named limbic-predominant age-related TDP-43 encephalopathy, commonly known as LATE. Now, he is leading the world's first clinical trial for LATE with his colleagues here at UK.
The group's work, published on April 30, 2019, in the journal Brain, established that like Alzheimer's disease, LATE affects multiple areas of cognition, ultimately impairing activities of daily life, but it appears that LATE progresses more gradually than Alzheimer's. However, LATE combined with Alzheimer's — which is a common combination — appears to cause a more rapid decline than either would alone. LATE is estimated to impact 40% of people over the age of 85.
This groundbreaking discovery was so substantial that Nelson and his colleagues were recognized as one of the top science stories of 2019 by Discover magazine. While this research has always been important, as the population ages, this research will become particularly vital.
Nelson is also the R.C. Durr Foundation Chair in Alzheimer's Disease at UK and was the recipient of the Asao Hirano Prize in 2014 by the American Association of Neuropathologists (AANP).
"Our collective ambition is nothing short of learning how to prevent a subset of dementias," Nelson said. "This is my lifelong dream. And it's important to note — I can't think of a better place to do this work than the University of Kentucky."