Innovation in cancer research showcased at Markey Research Day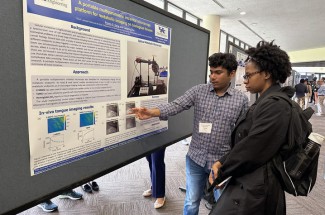 A day-long spotlight event May 12 highlighted the latest advancements in cancer research underway at the University of Kentucky Markey Cancer Center.
Sponsored by the Markey Cancer Foundation, Markey Research Day is an opportunity for researchers who study any aspect of cancer to share their work and receive feedback from colleagues across campus.
Markey's reach extends across 11 of UK's 16 colleges, and the work on display at Research Day showcases the wide variety and diversity of perspectives that fall under the Markey umbrella.
Hundreds attended the event, which featured 117 poster abstracts. Many posters are presented by seasoned researchers; however, high school, undergraduate, graduate and postdoctoral students, as well as junior researchers and staff, can submit work and have their poster presentation judged by faculty members.
The morning session included student oral presentations by:
Caitlin Miller, Ph.D. candidate, "Production of extracellular vesicles containing mitochondria is a selective survival mechanism for prostate cancer upon radiation treatment"
Vilma Bursac, senior research associate, "Acceptability of Patient Components of mPal, a Multilevel Intervention to Improve Palliative Care Integration into Advanced Lung Cancer Treatment"
Fengyi Mao, Ph.D., postdoctoral scholar, "PLK1 promotes melanoma progression via phosphorylating BACH1"
In the afternoon, three faculty members gave presentations:
This year's Markey Women Strong Distinguished Research Award was presented by Lois Reynolds, founding member of the Markey Women Strong program. This $100,000 prize is split between two researchers whose groundbreaking work addresses the cancer burden among women. This year's award was given to Brainson, an assistant professor in the UK Department of Toxicology and Cancer Biology, and Rina Plattner, Ph.D., professor in the UK Department of Pharmacology and Nutritional Sciences.
Mark Evers, M.D., director of the UK Markey Cancer Center, gave his annual "State of the Cancer Center" address.
Finishing off the presentations, the Gilbert H. Friedell, M.D., Memorial Lecture was given by Marvella E. Ford, Ph.D., director of Community Outreach Engagement at the Medical University of South Carolina Hollings Cancer Center, and the Susan B. Lester Memorial Lecture was given by Edward Chu, M.D., director of the Montefiore Einstein Cancer Center.​
Markey Research Day concluded with an award ceremony. Winners are:
Faculty Mentorship Award
Tianyan Gao, Ph.D.
Trainee Mentorship Award
Brittany Rice, Ph.D.
Graduate Students – Basic Science
First Place: Jing Yan – "Portable optical spectroscopic assay for non-destructive metabolic characterization in in vitro cancer cell model"
First Place: Caitlin Miller – "Production of EVs containing mitochondria is a selective survival mechanism for prostate cancer upon RT"
Second Place: Louis Rodgers – "Repurposing PI3K/Akt Inhibitors to Improve Brain Uptake of Anticancer Drugs in Glioblastoma Resection Models"
Third Place: Anastasia Lyon – "ABL1/2 and DDR1 Drive MEKi Resistance in NRAS-Mutant Melanomas by Stabilizing RAF Proteins and Promoting RAF Homodimerization"
Graduate Students – Clinical Science
First Place: Abigayle Feather – "A Longitudinal Study of the Association between the Teachable Moment Heuristic and Tobacco Use of Head and Neck Cancer Patients"
Second Place: Will Bowling – "A Pilot Randomized Controlled Trial of Smoking Cessation Induction Treatment for Rural, Underserved Cancer Survivors Across the Continuum of Motivation to Quit"
Third Place: Nan Lin – "Genetic variations contribute to cancer disparities in Appalachia"
Postdocs – Basic Science
First Place: Tara Kadayat – "Addressing hERG Activity of Inhibitor of DCN1-Mediated Cullin Neddylation"
Second Place: Xiaoyue Yang – "CRISPR/Cas9 genome editing delivered by MNP-BV system"
Third Place: Kristen Hill – "Increased Incidence of DACH1 Mutation in Appalachian Women with Uterine Cancer and Altered Chemotherapy Sensitivity"
Postdocs – Clinical Science
First Place: James Knight – "Use of Novel 3D-Conformal MLC-Based Spatially Fractionated Radiation Therapy (SFRT) Treatment on "Same Day" via Conebeam-CT Guidance for Management of Bulky Tumors"
Second Place: Taylor Rives – "Implementation of nurse navigation improves rate of molecular tumor testing for ovarian cancer in a gynecologic oncology practice"
Third Place: Jessica Thompson – "Lung Cancer Prevention among Appalachian Kentucky Women: A Community-Engaged Mixed Method Study"
Overall Winner:
James Knight – "Use of Novel 3D-Conformal MLC-Based Spatially Fractionated Radiation Therapy (SFRT) Treatment on "Same Day" via Conebeam-CT Guidance for Management of Bulky Tumors"