Kentucky and Georgia researchers partner to reach Black women at risk for HIV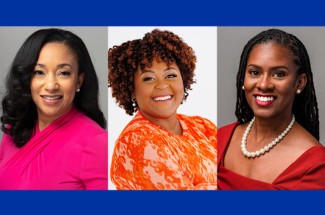 Researchers at the University of Kentucky College of Education and Morehouse School of Medicine are teaming to help at-risk Black women prevent HIV infection.
The study, funded by a $1.2 million cooperative agreement from the National Institutes of Health's National Institute on Minority Health and Health Disparities, uses an approach that partners academic researchers with community members to collaboratively design research to address mutually identified priorities.
In Kentucky, recent data show nearly half of newly diagnosed HIV cases were in Black women. And a significant number of recent HIV diagnoses are being seen in Louisville, where the Kentucky portion of the study is being conducted. In the metro area of Atlanta, where Morehouse School of Medicine is working with participants, Black women are 15.4 times more likely than white women to be diagnosed with HIV.
"We are providing information and resources to help equip and empower participants to reverse the statistics for Black women. Through the help of community health workers and lay navigators, we want to raise awareness of the risks and promote the resources and information needed for improved outcomes. Our goal is to promote open discussions on sexual health and health education to not only provide lifesaving information but also to break stigma in our community," said Principal Investigator Danelle Stevens-Watkins, Ph.D.
Researchers are collaborating with community members in Louisville and Atlanta to design, deliver and test educational content and resources to inform and support Black women at risk for HIV infection.
Stevens-Watkins has led a variety of research and outreach efforts focused on improving health equity and barriers to service utilization among Black populations. She is UK College of Education acting dean, UK associate vice president for research, diversity & inclusion and a professor of counseling psychology in the UK College of Education Department of Educational, School and Counseling Psychology.
Co-investigators at UK are Candice Hargons, Ph.D., associate professor of counseling psychology and interim department chair in Educational, School, and Counseling Psychology, and Shemeka Thorpe, Ph.D., assistant professor of health promotion in the Department of Kinesiology and Health Promotion.
"We are passionate about helping individuals take control of their health while collecting information that will allow us to make a difference on a larger scale. Our research team has a strong record of reaching Black community members in culturally responsible ways and helping shine a light on health disparities impacting our communities," Hargons said.
The first part of the study, conducted last year, used focus groups and in-depth interviewing to gather input from community members in the target audience on how messaging could be adapted from an existing safer sex intervention, known as Healthy Love.
The team is now using data collected in the first phase to deliver and compare the Healthy Love intervention with one that combines Healthy Love and the HIV pre-exposure prophylaxis medication known as PrEP.
Only a small portion of those at-risk use PrEP, despite data showing it is a safe and effective prevention measure. Taken daily, the medication lowers HIV risk by 99%. The two-arm, randomized controlled trial with 216 women (108 in Georgia and 108 in Kentucky) will compare Healthy Love + PrEP and Healthy Love only.
Using surveys, researchers will measure rates of PrEP uptake, HIV testing and condom use, as well as look at the feasibility and adaptability of the intervention.
The research team believes carrying out work designed with and led by community leaders, an approach known as community-based participatory research, improves the relevance of the research, enhances recruitment and changes historically unequal power dynamics, among other benefits.
"We hope this study will not only make a positive impact on HIV rates, but also provide further evidence that community-based approaches involving community health workers and lay navigators can make a difference in reaching Black women with lifesaving information related to HIV transmission," Thorpe said. "Through education and support, we believe it is possible to promote open discussions on sexual health and improve individuals' health outcomes while working toward ending the HIV epidemic in the U.S."
Research reported in this publication was supported by the National Institute on Minority Health and Health Disparities of the National Institutes of Health under Award Number U54MD007602. The content is solely the responsibility of the authors and does not necessarily represent the official views of the National Institutes of Health.