Making an Impact on Global Health Systems Through Research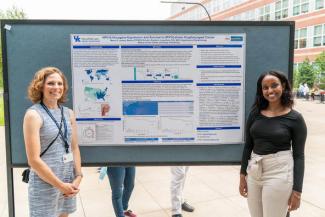 Throughout March for Women's History Month, the University of Kentucky is spotlighting Women Making History. These women are leading their fields of research, crossing traditional academic boundaries and impacting Kentucky's most pressing challenges, including opioid use disorder treatment, aging and Alzheimer's, water and air filtration, environmental impacts on health and suicide prevention.
They are mentoring the next generation of women scientists and scholars, curating stories and creating artworks illuminating who we are. Their work and voice shape the University of Kentucky.
On this "Wildcat Wednesday," UK celebrates Meron Lemma, a junior majoring in public health and environmental and sustainability studies, from Addis Ababa, Ethiopia.
At the age of 16, Lemma lost her father to colon cancer. Left with many questions about the disease that nobody could answer for her, Lemma became frustrated with the health care inequities in East Africa. This motivated her to pursue an education and career in cancer research, with a global perspective.
"Developing countries deserve better," Lemma said. "My career goal is to make an impact on global health systems and bring more education and resources to these areas of the world."
As an undergraduate at UK, Lemma didn't think there would be many opportunities to get involved in research, until she learned about the Markey STRONG Scholars — a program which fosters diversity in cancer research through personalized, mentored research experiences and professional development.
"When I saw this opportunity posted, I knew it was for me," Lemma said. "I wholeheartedly believed in (the program's) mission to diversify the field of cancer research. Being involved in hands-on cancer research with my mentor, attending various cancer lectures and shadowing physicians and oncologists, really helped me progress my knowledge in cancer patient care and cancer research."
Lemma is also involved in SPARK (Students Participating as Ambassadors for Research in Kentucky), and is a member of the UK Gaines Center for the Humanities.
She believes that having an interdisciplinary background will prepare her to best serve her community by implementing strategies to achieve health equity and environmental justice.
After graduating, she plans to pursue a master's degree in global health.
Read more about Lemma in this interview with the UK College of Public Health.
Look for more Women Making History stories, like Meron Lemma's, in UKNow on "Wildcat Wednesday" and every day on UK Research social media (@ResearchKY on Twitter and Facebook) throughout the month of March.