Markey biorepository accredited by College of American Pathologists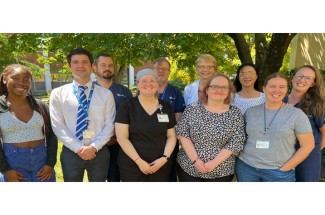 The University of Kentucky Markey Cancer Center's Biospecimen and Translational Pathology Shared Resource Facility (BPTP SRF) was awarded accreditation from the College of American Pathologists (CAP) based on results of a recent on-site inspection.
The facility is used for managing biological samples and offering pathology analytical services to support UK Markey Cancer Center investigators and collaborators. Facilities like the BPTP SRF play a critical role in facilitating translational research for cancer and other diseases.
"On behalf of the BPTP SRF team, I am delighted we have achieved CAP Accreditation," said Therese J. Bocklage, M.D., the facility's director and professor in the UK College of Medicine's Department of Pathology and Laboratory Medicine. "This ongoing review process will help ensure we continue to provide the highest quality services."
"This accreditation is a reflection of the hard work and dedication of Dr. Bocklage and the entire BPTP SRF team in maintaining the high standards set by the CAP," said Markey Cancer Center Director Mark Evers, M.D. "Their work plays an essential role in translational research that leads to advancing our understanding of cancer and developing new treatments."
The BPTP SRF is one of more than 8,000 CAP-accredited facilities worldwide. The CAP Biorepository Accreditation Program is the first accreditation program in the industry designed to improve the quality and consistency of biorepositories–ensuring the highest standard of patient care.
The three-year CAP accreditation process includes a thorough review of a laboratory's policies, procedures, and overall performance. The BPTP SRF underwent an on-site inspection by CAP inspectors, who evaluated the facility's equipment, personnel qualifications, quality control measures, and overall laboratory management.