Markey Molecular Tumor Board Improves Patient Outcomes in Appalachian Kentucky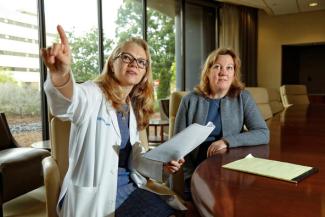 A recent study shows that patients with non-small cell lung cancer reviewed by the University of Kentucky Markey Cancer Center's Molecular Tumor Board experience improved outcomes, even if they reside in rural Appalachian Kentucky.
Molecular Tumor Boards (MTB) represent a strategy to increase precision medicine use in cancer care by using tumor genomic analysis to help oncologists choose cancer therapies tailored to each patient's individual needs.
In 2016, UK's Markey Cancer Center launched a statewide MTB; patients' tumors are tested for mutations using next-generation sequencing (NGS). Impact of the MTB was recently reported in the Journal of Clinical Oncology, Precision Medicine, demonstrating the MTB review process improves overall patient survival for patients newly diagnosed with non-small cell lung cancer. Improved outcomes were associated with MTB reviews, no matter where the patients resided.
The results show that MTBs may help overcome some health disparities for disadvantaged populations, says study author Jill Kolesar, Pharm.D., a professor in UK's College of Pharmacy who directs Markey's Precision Medicine Center and co-chairs the MTB.
Lung cancer remains the leading cause of cancer mortality in the U.S. Kentucky leads the nation in both the rate of new cases and deaths because of lung cancer, with the rural and medically underserved Appalachian region carrying the highest cancer burden.
"Our study suggests that this approach to personalized medicine may help reduce health disparities in Appalachian Kentucky by improving access to precision medicine expertise and options after cancer diagnosis," said Kolesar. "The MTB also provides cancer researchers with information that can lead to the development of new therapeutics and clinical trials that are most relevant to Kentuckians."
"The Molecular Tumor Board has been a very effective addition to my clinical practice," said Donald Goodin, M.D., study co-author with Baptist Health Hematology & Oncology in Hardin. "In a rapidly changing landscape of cancer treatments, this provides access to high level opinions regarding options without the need for patients to travel, which is a major barrier to care in our region."
When a physician requests an MTB review, the NGS report is evaluated by the MTB, an interdisciplinary team with representation from medical oncology, surgical oncology, pathology, radiology, genetic counseling and clinical pharmacology.
Based on the evaluation, the board may recommend three types of potential care: therapies for that patient's cancer type that are approved by the Food and Drug Administration (FDA), FDA-approved therapies in another tumor type and potential clinical trials.
By analyzing the molecular characteristics of cancer tumors on a case-by-case basis, the Molecular Tumor Board also creates a cache of information to direct the development of new therapies and clinical trials that target the types of cancers found at Markey and throughout Kentucky.