Markey's NCI designation: A decade of impact on cancer research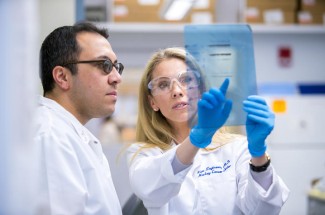 When the University of Kentucky Markey Cancer Center earned a designation the National Cancer Institute (NCI) in 2013, it instantly established Markey as one of the top cancer research centers in the U.S.
The distinction is only awarded to centers that meet the NCI's rigorous standards for research in cancer treatment, diagnosis and prevention. Today, Markey is one of just 71 designated cancer centers in the U.S.
When addressing the hundreds of researchers, clinicians, politicians, and community members gathered at the NCI announcement celebration a decade ago, UK Markey Cancer Center Director B. Mark Evers, M.D., made it clear that NCI designation was more than just a recognition of the exceptional cancer care and research already underway at Markey — it would serve as a catalyst to combat cancer's grip on the Commonwealth of Kentucky, which has the highest cancer rates in the nation.
"NCI designation is not our final destination, it is an important milestone on the journey," said Evers. "Our goal is to continue to build upon our strengths to achieve an internationally recognized center of excellence for cancer research, prevention and treatment. And we will not rest until Kentucky's unacceptably high cancer rates are significantly diminished."
The designation marked a pivotal moment for Markey, propelling its research efforts to meet the goal.
A catalyst for growth
NCI designation comes with millions in funding from the Cancer Center Support Grant, which supports cancer research infrastructure and programs. It also includes access to additional research dollars only available to NCI-designated centers.
The prestigious designation, combined with the research opportunities it provided, make Markey a sought-after destination for the top cancer researchers and oncologists.
Since 2013, funding to Markey researchers has more than doubled — today they hold more than $60.4 million in external grants. More than 95 new cancer researchers have been recruited to UK to be part of Markey since 2018.
Today, Markey includes more than 250 researchers from 11 of UK's 16 colleges, who conduct all phases of cancer research in laboratories, the clinical settings and in the community.
Impact on Kentucky
As the only NCI-designated cancer center in Kentucky, Markey is essential to the 4.4 million people it serves. Kentucky leads the nation in cancer incidence and mortality rates, with more than 30,000 new cancer cases and 10,000 deaths every year.
Over half of Markey's research projects focus on cancers that are high-priority areas due to their prevalence in Kentucky, especially the Appalachian region, including lung, colorectal and cervical cancers. They also focus on cancers where high-risk factors — like obesity, tobacco use and viral infections — are present in Kentucky's population.
For example, research underway at UK's Center for Cancer and Metabolism launched in 2017 is helping scientists understand the link between obesity and cancer. The center was launched in 2017 and is now in its second phase of funding, representing more than $22.6 million for research that will define the role of metabolism in cancer treatment.
Another significant project just started by Markey researchers involves a $15 million NCI-NIDA study in Perry County as a model to treat Kentucky's incredibly high incidence of hepatitis C, a disease frequently transmitted through injection drug use. Hepatitis C damages the liver and, if left untreated, can result in liver cancer.
Transforming treatment
NCI designation means patients get evidence-based care from clinicians who collaborate with researchers in the lab to develop new approaches for the treatment, prevention and detection of cancer.
It also means that Markey patients can take advantage of new treatments, drugs or technologies that are not readily available elsewhere.
In the past decade, Markey has recruited more than 35,700 patients to clinical trials, many of which are only available to NCI-designated cancer centers. The Markey Cancer Center Research Network was created in 2017 to expand access to even more Kentuckians at sites throughout the region.
Markey currently offers more than 160 ongoing clinical trials, including several early phase trials through its Precision Medicine Clinic. The clinic offers phase I and II trials, which give patients an opportunity to try promising drugs that are not yet FDA approved.
Since 2018, the Precision Medicine Clinic has treated more than 3,800 patients. For many, these new treatments at the forefront of cancer research offer hope when they've exhausted all available options for their cancer treatment.
"The Precision Medicine Clinic conducts trials that aren't available anywhere else in Kentucky and the NCI provides access to numerous early phase drug options," said Precision Medicine Clinic Director Jill Kolesar, Pharm.D. "It truly benefits the entire state by providing access to the newest cancer treatments. Referring community physicians will be able to keep their patients here in Kentucky instead of sending them far from home."
The launch of Markey's Molecular Tumor Board in 2017 also provides ongoing guidance for the types of clinical trials the Precision Medicine Clinic should initiate or recruit. As the Tumor Board members learn more about the types of mutations causing cancer in Markey's patient population, new trials can be designed to target those specific mutations.
Revolutionary research programs
Since achieving NCI designation, Markey has received nearly $7 million in additional funding from grants only available to NCI-Designated Cancer Centers.
These grants support a number of programs that further address Kentucky's cancer needs, including educational pipeline programs to develop the next generation of cancer researchers.
One of these programs, Appalachian Career Training in Oncology (ACTION), prepares UK undergraduates and high school students from Kentucky's Appalachian region to pursue cancer-focused careers.
Markey was also one of 22 cancer centers nationwide to receive funding to build and implement tobacco cessation treatment programs via the National Cancer Institute's Cancer Center Cessation Initiative (CCCI).
What's on the horizon
For NCI designation renewal, a cancer center undergoes a competitive and rigorous peer-review process that includes a written and in-person site evaluation that happens every five years.
Markey's status was renewed in 2018 and the center recently went through the evaluation process for its next funding period to begin in 2023. With this renewal, Markey also applied for status as an NCI Comprehensive Cancer Center.
Comprehensive designation is earned by only the top cancer centers in the country, and there are currently only 53 NCI Comprehensive Cancer Centers in the U.S. The top-tier designation would open the door to expanded research opportunities, recruitment of the world's top cancer clinicians and researchers, and the latest in cancer treatment options.
Research reported in this publication was supported by the National Cancer Institute of the National Institutes of Health under Award Number P30CA177558. The content is solely the responsibility of the authors and does not necessarily represent the official views of the National Institutes of Health.