National Conference at UK Seeks Answers to Country's Future Energy Needs, Challenges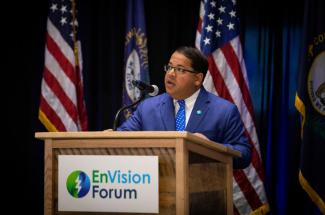 Ensuring a bright energy future that meets the country's needs will require a frank, thoughtful dialogue "focused on finding real and meaningful solutions."
That was the assessment of Neal Chatterjee, chairman of the Federal Energy Regulatory Commission (FERC), as he opened a daylong national conference on the University of Kentucky campus, hosted by FERC and UK's Center for Applied Energy Research (CAER). Deputy Secretary Dan Brouillette of the U.S. Department of Energy, who has been nominated to be the next secretary, attended the forum as did Assistant Secretary Melissa Burnison.
The EnVision Forum — held at Kroger Field — gathered more than 150 governmental, policy, industry and other leaders involved in the country's energy sector. A broad range of panel discussions, held throughout the day, included topics such as energy's impact on the climate, the need for investment in energy infrastructure such as the country's transmission grid, and how the epidemic of opioid use is threatening the future energy workforce.
"The modern energy landscape is rapidly evolving," Chatterjee said. "The energy economy is in a period of significant and rapid change."
Kentucky, he said, is at the epicenter of much of that discussion and the impact of the rapid changes and challenges taking place.
For example, while coal is still a significant part of the country's energy mix, Chatterjee cited the more than 500 coal-fired power units that have been shuttered in recent years — moves that continue to impact communities that have traditionally relied on coal as an economic driver.
"It gives me hope to stand here before bright minds, fearless leaders and innovative trailblazers who are dedicated to confronting the most challenging issues of our time, like navigating our changing energy landscape and policies, and considering climate, criminal justice and water-related issues," said UK President Eli Capilouto, who addressed the conference. "As the Commonwealth's flagship and land-grant institution, this is what it's all about — convening experts, disseminating knowledge and seeking solutions. It reflects our innate desire to expand what is possible."
That idea of exploring what's possible is what drives the work of UK's Center for Applied Energy Research, which has taken a leading position nationally in researching the country's current and future energy needs.
Rodney Andrews, CAER's director, said "there's still going to be a need for coal in our country's electric power mix."
But, he said, a focus is needed on continuing to make power plants more efficient as a way to reduce emissions as well as developing and advancing carbon capture solutions that help protect the environment.
At the same time, Andrews said CAER will be focused on thoughtfully exploring through research how new uses for coal can be developed.
Such uses, Andrews said, can include high-performance carbon fibers that can be utilized in the aerospace and auto industries or rare earth elements that are the backbone of the modern electronics industry, but largely produced in China, rather than the United States.
Andrews said students — both at the undergraduate and graduate levels — are extremely interested in energy as a potential career and research field. "Energy is something that captures a lot of students' interests," he said.
Approximately 20 graduate students work on projects at CAER each year and another 40 to 50 undergraduates come to CAER ever year to explore what research in the energy field looks like. Andrews teaches another 100 students in a class that examines power generation.
"We are not just thinking about solutions, we are making them. We are dreaming big and working together to achieve more," Capilouto said. "We are creating what is wildly possible."