New Grant Will Advance UK CAER's Innovative Carbon Dioxide Capture Research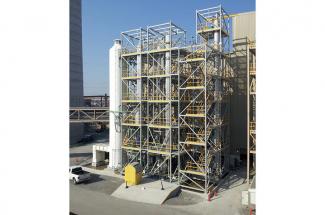 The University of Kentucky Center for Applied Energy Research (CAER) has received a U.S. Department of Energy (DOE) grant to advance its renowned carbon dioxide capture system. This is the second phase of a competitive, three-phase program DOE has launched to support large-scale, fossil fuel research and development. This $2.7 million project includes DOE funding and industry and university cost-share.
According to principal investigator Kunlei Liu, Phase II of the project will allow CAER researchers to move forward with its four-pronged CO2 capture system, taking the next step toward demonstrating its technology to a 10-megawatt electric equivalent scale. Grant funding will allow CAER's Power Generation Research Group team to complete the front end engineering design (FEED) for the proposed large pilot and finalize necessary permitting with the host facility, the Wyoming Integrated Test Center.
CAER's Power Generation Research Group is a global leader in building, developing and demonstrating post-combustion carbon capture systems. In fact, CAER's current 0.7 megawatt small pilot CO2 capture facility operates at Kentucky Utilities' E.W. Brown Generating Station in Burgin, Kentucky, and has led to scientific and engineering breakthroughs in the field.
"Our CO2 capture research has made giant leaps over the past decade," said Liu, associate director for research at CAER and associate professor in the UK College of Engineering's Department of Mechanical Engineering. "And this Phase II grant will allow our team to take necessary steps to lead this research forward and commercialize our process-oriented, post-combustion CO2 capture technology."
The center's post-combustion system features modular equipment and free-standing columns with built-in advanced controls to continually minimize the CO2 capture energy penalty while responding to a dynamic external demand. The new system will combine several facets to simultaneously address capital cost, energy consumption, load change and environmental impact.
If CAER is successful in this Phase II portion of the program and it receives funding to support Phase III, the center will increase the scale of the Burgin facility by more than 10 times. That is an integral step toward commercialization and adoption of CO2 capture research.
"When we think about the future of energy production, we know fossil fuels will be involved in the mix for years to come," said Heather Nikolic, co-investigator for this project and research program manager at CAER. "Finding new ways to produce energy in an environmentally friendly manner is hallmark of UK CAER, and we remain committed to finding a pathway to capture CO2 in a safe, efficient and cost-effective manner."
Project collaborators include Carbon Clean Solutions, University of Texas at Austin, Carnegie Mellon University, Electric Power Research Institute, Integrated Testing Center of Wyoming, Trimeric Corporation, Koch Modular Process Systems, Worley Group and Smith Management Group.