Opportunities open for students interested in summer research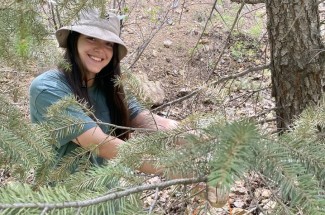 Conducting research during the summer can be a transformative experience for undergraduate students. Paid summer research fellowships provide students the opportunity to conduct intensive research and scholarship with leading scientists, clinicians and scholars.
The University of Kentucky Office of Undergraduate Research (OUR) is now accepting proposals for two summer research fellowship programs: the Commonwealth Undergraduate Research Experience (CURE) Fellowship and the Sustainability Summer Research Fellowship. The OUR will award a total of 19 fellowships with each student receiving a $5,000 stipend to support their research endeavors during the Summer 2023 term.
The CURE fellowship, sponsored by the OUR and the Office of the Vice President for Research, provides a path for UK to advocate for and ensure the inclusion of a diverse student population pursuing mentored research in designated UK Research Priority Areas (RPAs). Students will develop new knowledge and skills through research within the five participating RPAs: cancer, cardiovascular diseases, diversity and inclusion, energy, and substance use disorder.
"My CURE experience contributed to my undergraduate education by giving me the opportunity to aid in the process of running an experiment from beginning to end," said Joshua Hales, a senior psychology major and 2022 CURE Fellow under the Substance Use Research Priority Area (SUPRA). "My experience of seeing a research study from the creation of an SOP to data analyzation will impact me as a researcher by allowing me to better understand the underlying processes of research and better hone my research skills."
Hales worked with mentor Michael Bardo, Ph.D., in psychology in the College of Arts and Sciences.
The CURE fellowship welcomes applications from all undergraduate students with research interests covered by the RPAs with preference given to those who identify with one or more of the backgrounds that have been recognized as being underrepresented groups as defined by the National Science Foundation or other federally protected groups. CURE fellowship applicants will have a declared major or pertinent background in a field of relevance as identified by the RPA.
Co-sponsored by the OUR and Student Sustainability Council, the 2023 Sustainability Summer Research Fellowship program provides financial support and professional development to undergraduate students conducting sustainability-related research. This opportunity is designed to support a student's close collaboration with UK faculty and is intended to provide the student with an opportunity to conduct research while advancing the university's goals of sustainability. Students can use Scholars@UK to find out how the faculty's research aligns with sustainability by searching their name.
"This fellowship experience gave me my first opportunity to conduct summer research. It allowed me to fully focus on my research without worrying about classes at the same time," said Annabelle Wilson, a senior agricultural and medical biotechnology major and 2022 Sustainability Research Fellow. "I was able to grow my skills as a researcher, learn a lot about professional development, and work with new protocols."
Wilson worked with mentor Nicholas Teets, Ph.D., in entomology in the College of Agriculture, Food and Environment.
The sustainability fellowship program welcomes applications from all undergraduate students. Applicants must be a returning student in the fall and advised by a UK faculty.
In addition to research activities, students will have the opportunity to interact with the other fellows in their cohort during the summer research period, attend professional development workshops, and present their research at the Summer Research Symposium in August 2023 and Showcase of Undergraduate Scholars in April 2024.
The application deadline is March 1, 2023. Selections will be made by April 1, 2023.
Application requirements and eligibility status for both fellowship programs can be found here. For more information on the Office of Undergraduate Research, click here.