Paducah Gaseous Diffusion Plant Virtual Museum Now Available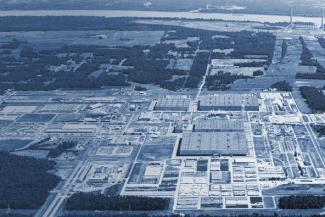 A virtual museum designed to capture and catalog the history of the U.S. Department of Energy's (DOE) Paducah Gaseous Diffusion Plant (PGDP) is now available. You can view the virtual museum at http://pgdpvirtualmuseum.org/index.html.
PGDP was the last government uranium enrichment facility operating in the country. The now-antiquated gaseous diffusion process was used for uranium enrichment at the facility. The process required the production of uranium in a gaseous form, uranium hexafluoride, and the physical separation of "less than one percent" quantities of the desired uranium-235 isotope from the abundantly plentiful uranium-238 isotope — accomplished at the scale of an atom.
Plant operations began in 1952 as the initial uranium enrichment step to produce material for Cold War weapons development and an emerging nuclear power industry. Enrichment operations were the plant's primary mission and required the construction of expansive "process" buildings to house the massive equipment the gaseous diffusion process required.
In the early 1950s, more than 29,000 construction workers and tradesmen were employed in the construction of the PGDP and two nearby power plants needed to satisfy the PGDP's electricity needs. From the early 1950s until shutdown of enrichment operations in May 2013, the PGDP employed an average of 1,700 skilled workers to manage, operate, upgrade and maintain the enrichment operations, implement plant decontamination and decommissioning, and conduct environmental restoration activities.
The virtual museum was designed to help remember this key part of Western Kentucky history, as well as the current DOE activities in decommissioning and environmental remediation. The site contains oral histories, interactive timelines, photo galleries and more. It was developed as a collaboration between DOE and the University of Kentucky Center for Applied Energy Research's Kentucky Research Consortium for Energy and Environment, through funding provided by DOE.