Personal Experiences Drive UK Junior Kayli Bolton to Help Others Through Research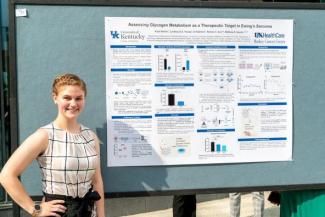 Throughout March for Women's History Month, the University of Kentucky is spotlighting Women Making History. These women are leading their fields of research, crossing traditional academic boundaries and impacting Kentucky's most pressing challenges including opioid use disorder treatment, aging and Alzheimer's, water and air filtration, environmental impacts on health and suicide prevention.
They are mentoring the next generation of women scientists and scholars, curating stories and creating artworks illuminating who we are. Their work and voices shape the University of Kentucky.
On this Wildcat Wednesday, UK celebrates Kayli Bolton, a junior majoring in biology in the UK College of Arts and Sciences and member of the Lewis Honors College, from Corbin, Kentucky.
Since the beginning of her freshman year, Bolton has been active in undergraduate research, working in Professor Matthew Gentry's laboratory in the Department of Molecular and Cellular Biochemistry in the UK College of Medicine. She has had the opportunity to participate in several metabolomics projects concerning glycogen storage diseases in Gentry's Lab, and describes her experience as a crucial launching point for her continued research in graduate school and her career. One of UK's three 2021-22 Goldwater Scholars, Bolton is also part of the Markey STRONG Scholars Program.
This past fall, she was awarded the prestigious Astronaut Scholarship Foundation award, presented annually to outstanding college students majoring in science, technology, engineering or math (STEM). Read more here.
Bolton chose to pursue an education and career in biomedical science research after her mother was diagnosed with breast cancer when Bolton was a sophomore in high school.
"I wanted to learn what difference I could make for other families," Bolton said. "And from that, my love has really bloomed for the sciences and research."
Upon completion of her bachelor's degree, Bolton plans to pursue an M.D./Ph.D. with a focus in biochemistry. Her goal is to eventually conduct research in the biomedical sciences investigating diseases such as cancer in an industry or academic setting.
Hear more from Bolton in UK's "Behind the Blue" podcast and "UK at the Half."
Look for "Women Making History" stories, like Kayli Bolton's, in UKNOW on "Wildcat Wednesday" and every day on UK Research social media (@ResearchKY on Twitter and Facebook) throughout the month of March.