UK alum co-founds app that turns outdoor exercise into a giant game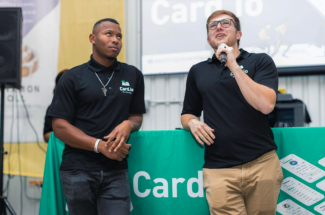 A University of Kentucky alumnus helped create an app to make exercise more fun.
Destin George Bell graduated from UK in 2020 with a degree in marketing from the Gatton College of Business and Economics. He's now the CEO and co-founder of the smartphone app Card.io, a gamified app turning any outdoor movement into a social competition.
The app transforms users' outdoor walking, running or cycling routes into a community-based game of turf war. As users move through part of a city they can claim it for their student organization, friend group or any community on the app. It will also track personal fitness statistics like mile pace, distance and calories.
"The pandemic had just hit, and I was living in my dad's attic on a busted-up air mattress. I had no access to a gym, but I knew I had to do something to get moving," said Bell. "You wouldn't imagine the CEO of a running app hates running, but I do. I had absolutely no motivation. I thought to myself, there's got to be some way to make this more rewarding."
After graduating from UK, Bell moved to Austin, Texas, to take off with his idea. He added the founder of "Map My Run" as an advisor and shortly after, met Max Miranda, chief technical officer and co-founder of Card.io, through LinkedIn.
The two have raised $1 million in funding from WM Investments and groups like Niantic Inc., the parent company of Pokémon Go. The popular game publisher took an interest in the pair's unique idea to bring together fitness and gaming. Bell said the game was part of the inspiration for Card.io.
"More than ever, people are looking for ways to make the things they need to do something they want to do, and gamification has shown to be the best way to do so," said Bell.
Bell said his time at UK played a role in creating Card.io.
"UK exposed me to people doing things in technology, investing and entrepreneurship," said Bell. "It made me realize if they can do it so can I!"
Since its launch in the App Store on Jan. 7, 2023, Card.io has been downloaded more than 2,000 times across 180 cities in 39 countries. It's also gaining momentum among UK's student body.
You can download Card.io through Apple's App Store here. A version for Android users is set to be released soon.