UK CAER, LG&E and KU to Develop System to Improve Power Plant Efficiency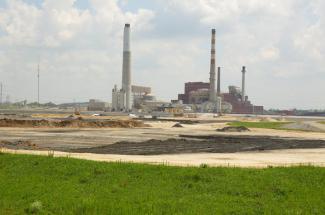 The University of Kentucky Center for Applied Energy Research (CAER) has received a $2 million grant from the U.S. Department of Energy's Office of Fossil Energy to improve efficiency and reliability at existing and future coal-fired power plants.
Working alongside industry partners at Louisville Gas and Electric Company and Kentucky Utilities (LG&E and KU) Company and Black Dragon Double Boiler, CAER researchers will be testing a self-cleaning, air preheater system that will improve load flexibility and increase thermal efficiency at power plants.
The project seeks to develop a simple device that can be added to regenerative air preheaters that are widely deployed in coal-fired plants. If successful, the UK-led project would allow utility companies to safely lower the minimum baseload in coal-fired units while improving boiler efficiency by 2-3%. Additionally, the newly designed system will enhance efficiencies in the deNOx operation, leading to better operating outcomes and reduced down time to clean air preheaters for the power plants.
"We're proud to join with UK CAER in making this pilot study possible," said Jeff Fraley, general manager of LG&E and KU's E.W. Brown Generating Station, where the pilot will take place. "The successful development of this technology will provide a real, sustained benefit not just for our company's remaining coal-fired facilities, but one that other utilities with similar units could take advantage of as well."
"We are excited to partner with LG&E and KU and Black Dragon Double Boiler on this project," said Kunlei Liu, principal investigator for this project, associate director for research at CAER and associate professor in UK's Department of Mechanical Engineering. "Helping to create solutions to industry challenges is a trademark of UK CAER, and this project is another example of our land-grant mission."
"Projects of this nature are truly applied energy research and extremely gratifying to see through," said Heather Nikolic, co-principal investigator for this project and research program manager at CAER.
The duration of the project is three years.
Technical Background
In coal-fired power plants, the air preheater transfers heat between the hot source (flue gas and coal combustion byproducts) and coolant (the combustion air) to recover the heat for better coal combustion performance and boiler thermal efficiency. In coal-fired power plants, the Ljungström regenerative air preheater is most common where air and flue gas flow through the different sides and transfer the heat through many rotated heat storage elements.
Most coal-fired power plants also include a selective catalytic reduction process to remove NOx from the flue gas, but a few parts per million (ppm) of ammonia inevitably pass through unreacted. This is referred to as ammonia slip. During the heat transfer cycle of the air preheater, ammonium bisulfate will deposit on the heating elements in the form of a sticky liquid, starting from the cold end and moving to intermediate layers of the air preheater. Subsequently, fly ash in the flue gas adheres to the heating surface element, as fouling/deposit. This "ash fouling" builds up as the pressure drop across the air preheater increases, and boiler operation becomes unstable with an associated thermal efficiency deterioration. If the pressure drop becomes significant, the boiler must reduce load, leading to an inevitable unit outage for cleaning. Frequent cyclic and daily long-hour low load operation, which is becoming more common as renewable sources of electricity are included in the grid, produces more ammonia slip from the process, which leads to quick fouling buildup.
The air preheater being proposed in this project seeks to solve this problem with a novel, cost-effective design.