UK Faculty, Student Work Highlighted at Substance Use Research Event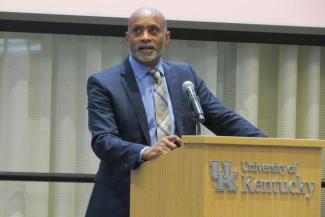 Research from University of Kentucky faculty and students working to reduce the burden of substance use disorders in Kentucky and beyond was showcased at UK's Substance Use Research Event (SURE) on March 1.
The annual event, supported by the Office of the Vice President for Research, gives substance use researchers at UK the opportunity to present their work, network and build collaborations.
More than 200 attendees from 13 colleges across UK participated in SURE, which included 70 presentations and poster sessions on the latest basic science, pre-clinical, clinical and community research addressing substance use.
"We are excited to be back in-person and host this unique forum to connect substance use researchers from many different disciplines," said event co-chair Chris Delcher, Ph.D., associate professor and director of the Institute for Pharmaceutical Outcomes & Policy at UK's College of Pharmacy. "Now in its fourth year, SURE is continuing to grow in both scale and scope and offers an excellent look at addiction and substance use research taking place at UK."
During themed breakout sessions, UK faculty also gave updates on projects and ongoing research in novel treatments, infectious complications, mental health among vulnerable populations and neurobehavioral mechanisms of substance use disorders.
This year's plenary speakers were Jaqueline F. McGinty, Ph.D., professor of medicine and neuroscience at the University of South Carolina and director of the MUSC Neuroscience institute, and Ricky Bluthenthal, Ph.D., professor of population and public health sciences and associate dean for Social Justice at the Institute for Health Promotion & Disease Prevention at the University of Southern California's Keck School of Medicine.
Researchers attending SURE are part of UK's Substance Use Research Priority Area (SUPRA), which includes more than 160 faculty across 12 colleges and 44 departments at UK. One of seven research priority areas at UK, SUPRA's mission is to prevent and reduce the burdens of substance use disorders through conducting and translating transdisciplinary research to inform clinical services, training, public health practice and transform policy.
SUPRA Director Sharon Walsh, Ph.D., and executive committee members Bill Stoops, Ph.D.; Carrie Oser, Ph.D.; Linda Dwoskin, Ph.D.; and Mike Bardo, Ph.D., gave an update on new initiatives and work being done to support the community.
"SUPRA is one of the most transdisciplinary research priority areas because substance use impacts individuals and communities, and addressing it requires scientific approaches ranging from molecular drug design, basic neuroscience, to clinical trials, community participatory research, epidemiology and policy," said Walsh, who also serves as director of UK's Center on Drug and Alcohol Research and principal investigator on UK's $87 million HEALing Communities study. "SUPRA connects a diverse group of researchers from across the University and this is a great opportunity to see how their work is impacting our scientific community and our Kentucky communities."
The update highlighted SUPRA's growth over the past few years, despite navigating a global pandemic. In 2021, SUPRA researchers were leading 184 projects, which totaled $97 million in external funding.
SUPRA has helped facilitate the growth of this research community at UK through collaboration opportunities, professional development, pilot grants and faculty recruitment efforts. Learn more at https://www.research.uky.edu/SUPRA.