UK hosts environmental lawyer Robert Bilott for water and public health talk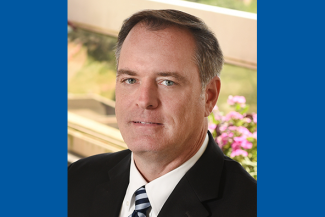 On March 24, the University of Kentucky Water Resources Research Institute (KWRRI), in conjunction with the UK Center for Appalachian Research in Environmental Sciences (UK-CARES), UK Superfund Research Center (UKSRC), UK Center for the Environment, and J. David Rosenberg College of Law will welcome the prominent environmental attorney and author Robert Bilott.
The keynote presentation with panel and facilitated discussion will be held at the Singletary Center for the Arts Recital Hall from 10-11:30 a.m. The event is free with seating available on a first-come, first-served basis. Visitor parking is available at Cornerstone Garage (409 South Limestone) at an hourly rate.
The event is titled "PFAS and the Future of Water and Public Health." Bilott is the environmental lawyer who became "DuPont's worst nightmare," according to The New York Times after his legal battle to expose the health hazards of "forever chemicals" per- and polyfluoroalkyl substances (PFAS) used in the manufacturing of Teflon. The story in his book, "Exposure: Poisoned Water, Corporate Greed, and One Lawyer's Twenty-Year Battle Against Dupont," inspired the major motion picture "Dark Waters" (November 2019), featuring Academy-Award nominee Mark Ruffalo as Rob Bilott. Bilott is also an appointed a lecturer at the Yale School of Public Health.
According to Jason Unrine, KWRRI director, emerging chemical contaminants like PFAS are increasingly an issue of national and regional concern.
"The U.S. EPA is considering maximum permissible levels of certain PFAS compounds in drinking water that are among the lowest ever established for any contaminant," Unrine said. "Taken together with ubiquitous contamination of water resources in the U.S., including Kentucky, PFAS has quickly become one of the major environmental issues of our time."
Unrine says he is hopeful that the event will increase the awareness and engagement of students and community members on the topic.
"Mr. Bilott's visit will spur meaningful conversations about the history and future of PFAS impacts on the health of communities and interactions between industry, government, community and academia that surround this issue."
Erin Haynes, director of the UK Center for the Environment and deputy director of UK-CARES, said, "I am delighted that UK will be hosting Mr. Bilott. It is important that we connect environmental exposure with health and policy."
This presentation is part of Lexington's fourth annual Water Week, a community celebration of Lexington's waterways. Water Week is a collaboration between the City of Lexington, University of Kentucky, Kentucky American Water and local watershed and community organizations. To learn more about Water Week events, visit www.lexingtonky.gov/water-week.