UK Hosts Inaugural GEN-EV Race at Kroger Field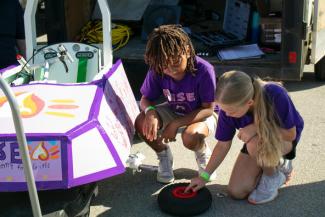 Elementary school students from across the Commonwealth descended upon Kroger Field on June 4 to take part in the first-ever GEN-EV electric car race.
GEN-EV is a STEM-based activity that helps to develop engineering and team skills by allowing students to design, construct, and competitively race a one-person electric vehicle. This is the first year for the program in Kentucky. Student teams across the Commonwealth have been building their cars throughout the academic year, and this race was a culmination of those efforts.
The program is operated by the University of Kentucky Center for Applied Energy Research (CAER) in partnership with GreenpowerUSA and supported by the Kentucky Energy and Environment Cabinet.
Thirteen student teams competed in this year's GEN-EV race including:
Ashland Elementary School

Berea Community School

Burgin Elementary School

Cassidy Elementary School

Duff Allen Central School

Eminence Elementary School

Lansdowne Elementary School

Mason County Elementary School

Maxwell Elementary School

Meadowthorpe Elementary School

Pikeville Elementary School

Redwood Cooperative School

Rise STEM Academy
Also participating in the program were East Calloway County, North Calloway County, and Southwest Calloway elementary schools. They were unable to race in Lexington but created their own GEN-EV event in Calloway County.
The winner of the inaugural race was Redwood Cooperative School from Lexington.
"How many 9-year-olds do you know that can follow a wiring diagram or develop a budget for a program?" said CAER's Shiela Medina, GEN-EV program director. "I am incredibly proud of each and every young person that took part in the GEN-EV program this year. Saturday's race was a wonderful display of teamwork, sportsmanship, and Kentucky ingenuity. We can't wait to see all of our current teams and some new ones back next year."
Engaging students in a hands-on science and technical effort is the real focus of the program, according to Medina. Such efforts are a growing focus for schools, employers, and stakeholders in every corner of Kentucky.
"Advanced manufacturing, particularly in the automotive sector, has been critical to Kentucky for decades," said Rodney Andrews, Ph.D., director of CAER. "We are seeing companies invest more and more in electric vehicle technology in Kentucky, and many of these companies are facing workforce challenges. We hope programs like this that help spark curiosity in Kentucky students and help us inspire the next generation."
Dave Melanson (Center for Applied Energy Research)