UK, NSF-funded partners complete phase 1 to reimagine global cyberinfrastructure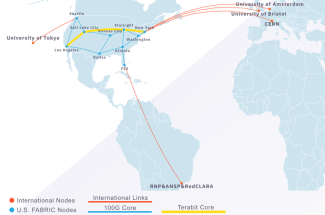 The NSF-funded FABRIC project, launched with a $3 million grant in 2020, has completed Phase 1 in its work to establish a groundbreaking network testbed cyberinfrastructure to reimagine the way large amounts of data are generated, stored, analyzed and transmitted across the world.
The team recently announced the successful installation of all Phase 1 sites after overcoming supply chain delays and other challenges due to COVID-19. With the required hardware, software, storage and fiber optic connections in place, the FABRIC system is available for early users to build and test novel large-scale experiments.
"The FABRIC network is a highly advanced type of internet, comprised of powerful network hardware that can be programmed to create completely new applications not possible today," said Jim Griffioen, professor in the University of Kentucky Department of Computer Science, director of the Laboratory for Advanced Networking and co-principal investigator (PI) on the NSF project. "Being involved in the design and deployment of FABRIC as well as hosting one of the first nodes on the FABRIC network puts UK faculty, staff and students in a unique position of being able to develop novel network applications and services for a future internet."
FABRIC aims to support a wide variety of cyberinfrastructure research activities aimed at reimagining what the future internet may do for distributed protocols, systems, cybersecurity and science applications. Today, affordable advanced computational and storage technologies are far more accessible and pervasive than when the internet was first built, and FABRIC capitalizes on these technological advances to build an infrastructure where the new internet can be reimagined and tried at scale.
"FABRIC is based on the idea that the 'intelligence' of a network — storage and computational programmability — does not have to be limited to the edges, but rather, data storage and processing can be integrated into the network, something that the internet doesn't support today," said Ilya Baldin, FABRIC PI and director of network and research infrastructure at the Renaissance Computing Institute (RENCI) at the University of North Carolina at Chapel Hill.
The FABRIC infrastructure includes the development sites at RENCI, UK and Lawrence Berkeley National Laboratory and the production sites at Clemson University, University of California San Diego, Florida International University, University of Maryland/Mid-Atlantic Crossroads, University of Utah, University of Michigan, University of Massachusetts Amherst/Massachusetts Green High Performance Computing Center, Great Plains Network, National Center for Supercomputing Applications at the University of Illinois Urbana-Champaign and Texas Advanced Computing Center.
The FABRIC testbed is built on Energy Sciences Network (ESnet) network and fiber infrastructure. "The team has had a challenging job coordinating the construction of FABRIC over ESnet's fiber network while the network itself was being upgraded simultaneously to ESnet6. The teamwork within the project and collaborations with the research and education network community have been very helpful in completing this phase," said FABRIC co-PI Inder Monga, executive director of ESnet.
FABRIC has more than 200 users testing the feasibility of new infrastructure and performing other experiments at the production sites. The FABRIC team has developed a framework for the purpose of measuring facility operational parameters on a very fine level. The UK team led this effort, designing and developing an advanced measurement framework that not only can monitor performance of the entire network, but does so using highly accurate clocks that make a wide range of new applications possible. FABRIC is also designed such that users play an active role in providing feedback on the features of the framework that they find useful.
"FABRIC is providing us an opportunity to explore ways to integrate AI-driven security algorithms into the lowest levels of the network infrastructure," said FABRIC user Phil Porras and leader of the internet security group at SRI International. "We envision future networks with the intelligence to combat malicious traffic within the packet switching hardware itself, and FABRIC has been extremely useful in accelerating this research."
Key principles of FABRIC's design include flexibility, scalability and expandability. In Phase 2, the FABRIC team plans to incorporate additional sites across the country and develop high-speed connectivity between them, allowing for increasingly richer experiments.
"Connecting FABRIC to national research facilities, testbeds, cloud providers and the current internet will enable a unique environment for experimentation with real-world users and data," said Griffioen. "By interconnecting existing facilities and infrastructure, FABRIC will encourage developers to imagine completely new types of services that can be deployed in support of real-world user communities."
FABRIC is expected to be fully operational and open to researchers in October 2023.
Research reported in this publication was supported by the National Science Foundation under Award Number 1935966. The opinions, findings, and conclusions or recommendations expressed are those of the author(s) and do not necessarily reflect the views of the National Science Foundation.