UK Research Annual Report Fiscal Year 2020 and Fiscal Year 2021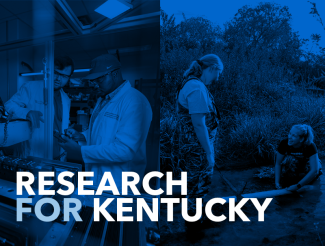 In 2020, as the COVID-19 pandemic changed lives across the globe, UK Research took steps to protect our faculty, staff and student investigators. With the enactment of the University of Kentucky Resumption of Research Phased Plan, we recognized personal health and safety as our number one priority. We also established three COVID-19 Unified Research Experts (CURE) Alliance teams in Health, Materials/Methods and Social Sciences to facilitate COVID-19 research and provide seed funding to accelerate projects targeting this viral threat.
UK Research was also at the forefront in taking meaningful steps, with partners across the university, to address diversity, equity and inclusion.
UNited In True racial Equity (UNITE), led by Danelle Stevens-Watkins, was established as part of UK's Diversity, Equity, and Inclusion Master Plan in August 2020 to bring together diverse groups of investigators, trainees, colleges and research groups with a focus on racial equity. The Diversity & Inclusion UNITE Research Priority Area elevates impactful research on racial equity with the goal of increasing racial diversity by leveraging existing strengths and forging new relationships. We also expanded our Inclusive Postdoctoral Enrichment Program (IPEP) that supports research career development of diverse postdoctoral fellows.
For the first time in UK history, investigators received $468 million in extramural grants and contracts to support their research and creative work in FY21 (a 9% increase from FY20). Federal grants and contracts totaled $281.2 million, accounting for 60% of UK's total awards in FY21. Federal awards increased by $8.9 million (3.3%) in FY21 from FY20.
The sheer volume of research activity, and the success of our researchers to garner funding for their impactful and innovative studies, speaks to the dedication of our faculty, staff and students to UK's research mission. We applaud their work to put forth their best and brightest ideas, and we have positioned the infrastructure to facilitate their efforts. Now more than ever, research is fundamental to the University of Kentucky's mission to improve lives in Kentucky and beyond.