UK Researcher Highlights Need to Improve Alzheimer's and Dementia Cognitive Screenings and Assessments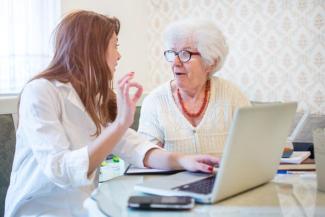 A researcher at the University of Kentucky's Sanders-Brown Center on Aging is one of several experts in the field who recently discussed the use of two popular screening tests for dementia and Alzheimer's disease. Frederick A. Schmitt, Ph.D.. professor of neurology and psychiatry at UK, says he and the others involved with the publication believe that "reliance on these crude paper and pencil tests has hampered advances in treatment and prevention of Alzheimer's disease."
J. Wesson Ashford, M.D., Ph.D., a former vice-chair for research at UK, was the lead author on the paper published in the Journal of Alzheimer's Disease. Ashford is currently a clinical professor (affiliated) of psychiatry and behavioral sciences at Stanford University and is the director of the War Related Illness and Injury Study Center at the VA Palo Alto Health Care System.
UK's Schmitt served as the second author for this review, which focused on two popular screening tests known as the Mini-Mental State Exam (MMSE), published in 1975, and the Montreal Cognitive Assessment (MoCA), published in 2005. The group of researchers believes there are excellent computerized tests for measuring the memory problems of Alzheimer's disease that can be used at home or in a clinician's office. One test they discussed is known as MemTrax. It was first developed at UK in 2000 and used at the Lexington VA.
As part of the findings of their work, the group of researchers explains that the Medicare Annual Wellness Visit includes a mandated cognitive assessment, but that assessment is completed only 7% of the time.
"We proposed that the cognitive assessment of the Medicare Annual Wellness Visit would be better completed in an online registry. This would be more practical for clinicians and patients and could also serve to recruit participants for Alzheimer's research and further hasten the discovery of treatments and means to delay or prevent Alzheimer's disease," said the authors.
Ashford, Schmitt, and the other authors believe the methods they have proposed could greatly improve research in Alzheimer's disease. They say the changes could possibly lead to breakthroughs in information analysis to lead to ways to treat, delay, and/or prevent Alzheimer's disease.
They say, unfortunately, knowledge that has long been established has been overshadowed in recent years by overly focused efforts of pharmaceutical companies to develop an Alzheimer's disease cure based on the "amyloid hypothesis," which has dominated the field since the 1990s. The 14 authors of this paper, all eminent scholars in the field, strongly advocate that the direction for treatment and prevention development in Alzheimer's disease should follow the numerous leads which are not related to the "amyloid hypothesis." They believe careful measurement approaches, as outlined in their paper, will better reveal, and validate new, innovative, and effective strategies and benefits for treating and preventing Alzheimer's disease.
This work was not funded by any specific organization, but a great deal of the discussion leading to this commentary occurred during meetings of the Medical, Scientific, and Memory Screening Advisory Board of the Alzheimer's Foundation of America, for which Ashford is the Chair and Schmitt is a member.