UK researcher launching health tracking survey in East Palestine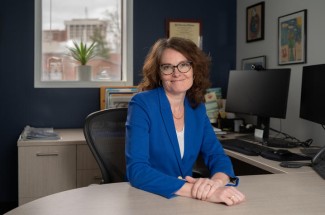 University of Kentucky College of Public Health environmental scientist Erin Haynes, Dr.P.H., is taking steps to learn more about the health symptoms and exposures faced by the residents of East Palestine, Ohio, by launching an online health tracking survey. On Feb. 3, a train carrying hazardous materials derailed near East Palestine, raising concerns about both short- and long-term impacts on the health of the area's residents.
Haynes, the Kurt W. Deuschle Professor of Preventive Medicine and Environmental Health, director of the UK Center for the Environment and deputy director of the UK Center for Appalachian Research in Environmental Sciences (UK-CARES), leads the research team for this project. Anyone aged 18 or older who lives in Columbiana, Mahoning, Stark, Carroll and Jefferson Counties in Ohio and residents of Beaver and Lawrence Counties, Pennsylvania and Hancock County, West Virginia are eligible to participate in the brief online survey. The survey asks questions about their experiences during the evacuation, concerns about exposures and health symptoms, including stress.
"It's important that we characterize the health symptoms and exposure concerns from residents in East Palestine and in the surrounding area," said Haynes. "We do not know exactly how far the chemicals have spread, so we want to include all surrounding counties in this survey."
This survey is the first step in the team's planning of a long-term research study to assess the potential lingering health effects from the toxic chemicals released and formed from the derailment and the subsequent controlled burn of chemicals.
"Our goal is to conduct long-term research that is with and for the residents of East Palestine," Haynes said.
Residents' responses will give the research team insight on the experiences and health symptoms they have been facing since the incident. The team plans to continue to work with and for the residents of East Palestine and surrounding area to better understand their exposures and health impacts as part of a long-term health study.
"I have worked with Dr. Haynes for over 10 years on several environmental health projects," said Amanda Kiger, resident of East Palestine. "We are excited to see this much-needed health survey launch. The community needs this long-term follow up to assess their health over time."
For more information about the study and to access the survey, visit bit.ly/ukep-study.