UK researcher leads study to advance treatment for hip osteoarthritis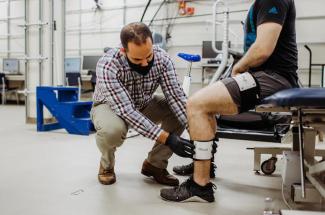 When Michael Samaan, Ph.D., completed his postdoctoral fellowship in 2018, he was eager to find a university where he could apply his knowledge in osteoarthritis and enhance his research skills.
In California, where he was living at the time, the collaborative atmosphere and health care hub at the University of Kentucky drew him in.
"I found that there are a lot of strong researchers here at UK, many specifically within my niche of work," Samaan said. "And everything that I need to do the work that I want to do is within a 10-minute walk of my office."
When he was interviewed at UK, Samaan was connected with Cale Jacobs, Ph.D., assistant professor of research at the UK College of Medicine, and Brian Noehren, Ph.D., director of human performance and biomotion laboratories at the UK College of Health Sciences. They have collaborated on projects ever since Samaan began his role, which is currently an assistant professor in the UK College of Education Department of Kinesiology and Health Promotion. He also holds a joint appointment in the UK College of Medicine Department of Orthopaedic Surgery and Sports Medicine and in the UK College of Engineering Department of Biomedical Engineering.
Samaan has strengthened his connections with faculty through the College of Medicine's Alliance Research Initiative, which fosters collaboration among clinicians and researchers across UK colleges to study the diseases most heavily impacting Kentucky.
Jacobs and Noehren are co-leaders of the Osteoarthritis Alliance of Kentucky (OAK), which is working to develop a comprehensive treatment strategy for the degenerative joint disease.
As part of OAK, Samaan benefits from Jacobs' expertise in the biomarkers of osteoarthritis and Noehren's knowledge of physical therapy and muscle rehabilitation. From OAK team member Christopher Fry, Ph.D., of the College of Health Sciences, Samaan has learned more about the role of muscle biology in recovery and optimizing muscle function following an injury or disease. He has worked on various foundation-based awards with orthopaedic surgery faculty Austin Stone, M.D., Ph.D., and Caitlin Conley, Ph.D., to study the impact of ACL injuries on knee joint cartilage health.
Now, thanks to that collaboration and inspiration from his mentors and colleagues at UK, Samaan is leading his own project funded by the National Institute of Aging (NIA). He will work to develop and implement a novel experimental approach to investigate the potential role of the hip musculature on hip joint mechanics, pain and cartilage health in hip osteoarthritis.
In short, Samaan's project will challenge the notion that exercise-based programs are the most effective treatments for patients with hip osteoarthritis.
"If you have someone who has severe joint pain, and you tell them to go walk 20 minutes a day, they probably can't do that," Samaan said. "So, I started thinking through it and thought, 'Well, maybe it's the muscles not working properly?' That's going to affect the way your joint moves, and in turn, maybe leads to abnormal loading patterns which start to break down cartilage and the pain starts to become more evident."
Samaan's goal with the NIA study is to develop a new, multimodal experimental platform including magnetic resonance imaging, muscle-function assessment, musculoskeletal simulations, and biochemical biomarkers to assess the pathomechanism and corresponding effects of hip extensor dysfunction during aerobic exercise.
The leadership and faculty in OAK, he says, have been vital in preparing him for this big step in his career.
"You can't do things alone nowadays, research-wise. You must integrate people of varying backgrounds and expertise," Samaan said. "That's one cool thing with OAK and UK in general. There are just so many people here who have varying clinical and research backgrounds. It makes chatting about different projects and questions really fun."
Research reported in this publication was supported by the National Institute on Aging of the National Institutes of Health under Award Number K01AG073698. The content is solely the responsibility of the authors and does not necessarily represent the official views of the National Institutes of Health.