UK Researcher Part of Team That Found How Plants Forget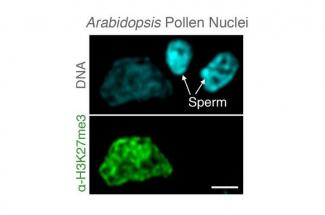 A University of Kentucky researcher is part of an international team of scientists that has discovered how plants forget.
Plants need memories of their environment to help them know things like when to flower each spring. These types of memories are part of what is called the plant's epigenetic memory. Seeds need to lose this memory, so they can flower at the right time for the environment in which they are placed.
Led by Michael Borg, a postdoctoral scholar in the Frederic Berger lab in Austria, the team found that plant pollen does not have a protein inside its sperm cells that is critical for memories. Instead, sperm has another protein that prevents the memory protein from accumulating. In a prior study, Berger's lab identified the protein critical for plant memory.
Tomokazu Kawashima, assistant professor in the UK College of Agriculture, Food and Environment, was part of the international project. In the study, he identified which genes were active and which ones were silenced in the sperm found in pollen cells of plants.
"Parental memories of environmental stresses such as drought and extreme temperatures can influence the growth and yield of its offspring," he said. "We can now start understanding how plants control such epigenetic memory reprogramming. We may be able to remove any negative influences of a parent's epigenetic memory on offspring productivity for sustainable crop production in the future."
At UK, Kawashima is a faculty member in the Department of Plant and Soil Sciences where he studies evolutionary changes that have occurred in land plant sperm inside pollen cells. Prior to joining the faculty at UK, Kawashima was a senior research fellow in the Berger's lab at the Gregor Mendel Institute, which is part of the Austria Academy of Sciences.
The paper was published in the academic journal Nature Cell Biology and is available online at https://www.nature.com/articles/s41556-020-0515-y.
Additional collaborators on the project include scientists at the Cold Spring Harbor Laboratory, Yale University, Purdue University, Nagoya University in Japan, University of Edinburgh in the United Kingdom, and the Instituto Gulbenkian Ciência in Portugal. Researchers received funding for the project from Austrian Science Fund, European Research Area Network for Coordinating Action in Plant Sciences, the Howard Hughes Medical Institute, National Institutes of Health, the Japan Society for the Promotion of Science, the Wellcome Trust and the European Research Council.