UK Study Highlights the Importance of Signaling Molecule in Obesity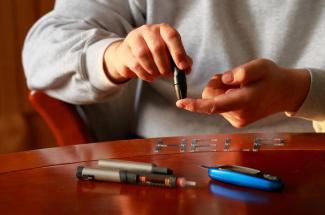 Recent work from the University of Kentucky College of Medicine published in Cell Press discusses an essential signaling pathway that causes metabolic dysfunction including insulin resistance and obesity.
The article from UK's Barnstable Brown Diabetes Center, Markey Cancer Center, and the Department of Pharmacology and Nutritional Sciences suggests a vital role for the signaling molecule, FKBP51, in metabolism and the progression of obesity.
This work from the laboratory of Terry D. Hinds Jr., Ph.D., associate professor in the UK Department of Pharmacology and Nutritional Sciences, outlines the various roles that FKBP51 and other related proteins have on the body that cause fat accumulation and obesity. Many of these functions are linked to signaling mechanisms throughout the body, including fat, skeletal muscle and skin. In addition, FKBP51 is highest expressed in adipose, or fat tissue. In humans and rodents with obesity, FKBP51 is elevated, possibly to aid in fat accumulation.
FKBP51 expression in adipose tissue increases with the formation of new fat cells, a process called adipogenesis. Blocking FKBP51 leads to a decline in fat accumulation in animal models and improved insulin signaling, indicating that inhibiting FKBP51 might also be helpful for insulin-resistant Type 2 diabetes.
Hinds suggests that targeting FKBP51 with therapeutics may be useful for the treatment of obesity in the future. His studies have focused on this topic for nearly two decades and have pioneered research focused on FKBP51 and its role in adipose tissue and diabetes.
According to the Center for Disease Control, 73.6% of adults are either overweight or obese. With this high prevalence, Hinds hopes this article will ignite future research into investigating FKBP51 in human obesity and diabetes in hopes of developing safe and effective treatments.
The research reported in this article was supported by the National Institute of Diabetes and Digestive Kidney Disease at the National Institutes of Health under award numbers R01DK121797 and R01DK121017. The content is solely the responsibility of the authors and does not necessarily represent the views of the National Institutes of Health.