UK's CHET awards pilot grants to further research on health disparities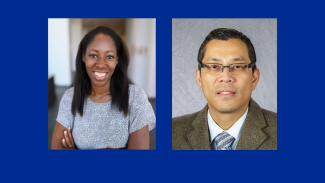 The University of Kentucky's Center for Health Equity Transformation (CHET) and the Food as Health Alliance (FAHA) awarded pilot funding to support two faculty members' research projects to identify, reduce and eliminate health disparities.
CHET's 2023 Health Equity Pilot Grants were awarded to Jessica L. Burris, Ph.D., an associate professor in the Department of Psychology in the UK College of Arts and Sciences, and Yuqing Zheng, Ph.D., an associate professor in the Department of Agricultural Economics in the UK Martin-Gatton College of Agriculture, Food and Environment, who is also funded through the FAHA pilot grant.
The annual program recognizes CHET core faculty and affiliates with grants of up to $25,000 for a 12-month pilot project. Funds for the pilot grants are made possible through the support of the Office of the Vice President for Research and FAHA.
At the intersection of tobacco use and cancer survivorship is Burris' study titled, "A Mixed-Methods Study of the Experience of Lesbian, Gay, Bisexual and Transgender Cancer Patients Who Use Tobacco." Burris received this award from CHET to conduct health equity research for a special population experiencing disparities.
Burris will recruit UK Markey Cancer Center patients and providers and assess knowledge, attitudes and practices/behaviors to better understand the cancer care experience of LGBTQ+ patients. Results from this study will help give insight into what barriers and facilitators exist for LGBTQ+ affirming care and tobacco cessation treatment delivery in the context of cancer care.
"There are a few populations that share a disproportionate burden of both tobacco use and cancer, and people who identify as LGBTQ+ are one of them. The stigma associated with tobacco use combined with the stigma associated with being a sexual and/or gender minority is significant, and it can have deleterious effects on quality of life, health care utilization and health care satisfaction. This pilot study will help shed light on these issues locally and hopefully inform future quality improvement and intervention efforts," said Burris.
The Food as Health Alliance Pilot will support Zheng's study titled, "You Are What You Eat: Connecting Health Outcomes with Grocery Food Purchases, Food Insecurity and Health Eating Index." One of the missions of FAHA is to bring together clinical and community research spanning agriculture, food and health to address food insecurity and diet-related chronic disease.
Zheng will use machine learning to sift through in-store consumer purchase data (scanner data) from the U.S. Department of Agriculture to predict select health outcomes, like BMI, cholesterol, diabetes and hypertension, based on the types of food purchased.
Zheng says the prediction model will help inform policymaking decisions, alert consumers of potential health risks based on their shopping history and provide insurers with insights on the connection between food and health.
"Food has a vital role from the ecological, social and health perspectives. We are grateful that with this support, we can explore research questions regarding how healthy eating could reduce health disparity by who they are and where they live. By applying machine learning techniques to big data, we aim to gain insight into questions such as 'Is the impact of healthy foods on diabetes dependent on race?'" said Zheng.
With support from the Office of the Vice President for Research, College of Medicine, Markey Cancer Center and College of Arts and Sciences, CHET's mission is "to synergize innovative, transdisciplinary and impactful research and training to improve the health of the most vulnerable residents of Kentucky and beyond."
For more information about CHET and the pilot programs, visit https://chet.med.uky.edu/ or contact chet@uky.edu.