UK's Daugherty honored for transformative work with American Heart Association journal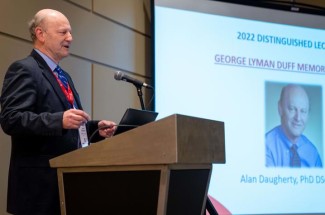 A University of Kentucky expert in cardiovascular health is being honored for his role in leading one of the American Heart Association's journals.
Alan Daugherty, Ph.D., D. Sc., is the Gill Foundation Chair of Preventive Cardiology, director of the Saha Cardiovascular Research Center and the Saha Aortic Center, chair of the Department of Physiology and associate vice president for research core facilities.
For the past 10 years, he's also served as editor-in-chief of the journal Arteriosclerosis, Thrombosis, and Vascular Biology (ATVB).
Daugherty said serving as editor was fun but intense. "My wife used to say that the last thing she saw at night was the back of my head with the journal's editorial website on my computer screen."
For his transformative work as leader of the journal and contributions in other roles as an AHA volunteer for four decades, Daugherty will receive a 2023 Award of Meritorious Achievement. He will be honored on June 14 during the AHA's National Volunteer Awards virtual public ceremony from 6 to 8 p.m. CST.
As editor-in-chief, Daugherty was determined to enhance the quality of published research. For example, he appointed a colleague as technical editor and, coupled with his scope, energy and passion for science, inspired the editorial team to expand the journal's reach and influence, especially in the areas of rigor and reproducibility. Daugherty helped lead the way and set an example for editors of other AHA journals such as Circulation Research and Stroke.
The journal's impact factor — a measure of how often it's cited by other journals — increased from about six to 10. The higher impact factor attracts more submissions, potentially further improving the quality of the research published.
"The fact that it went up over time was indicative, hopefully, of people having a good view of the journal," Daugherty said.
From the outset, Daugherty helped the journal become more diverse and inclusive, including providing authors the option to represent their names in their native alphabet in the author list. Recruiting a board that reflected the journal's authorship, seven of its 16 members hailed from the top countries submitting to the publication. The board also includes people who are underrepresented in the field and a balanced male/female membership.
"It was important to make sure that our editorial group was as diverse as our authors and readership," he said.
And to familiarize younger researchers with the editorial process, he helped establish an Early Career Editorial Board consisting of young faculty members.
"A lot of people who become editors don't have experience and are basically thrown in the deep end on the job," he said. "The purpose of the board was to provide a background to assist future engagement."
To recognize his scientific contributions, Daugherty in 2022 was invited to present on a topic of his choice for the George Lyman Duff Memorial Lecture — one of three annual ATVB Council lectures at the AHA's Scientific Sessions. His presentation summarized his research into the role that a protein called angiotensinogen played in the development of cardiovascular diseases. The research may lead to new ways to treat hypertension and aortic diseases.
While he's looking forward to some well-earned rest and relaxation, Daugherty plans to continue volunteering for the AHA in whatever capacity he can be most useful.
"Research is a fun and ever-evolving process," he said. "It would certainly be very satisfying to have been engaged in the development of a product that had a positive impact.
"Not everyone thinks it's great going to work every day. I'm very fortunate."