Women Making History: UK researcher uses computational science to solve Kentucky's health challenges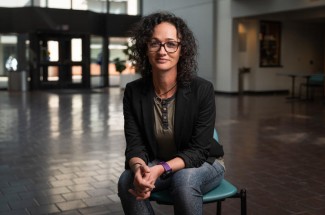 Throughout March, the University of Kentucky is spotlighting Women Making History during Women's History Month. These women are leading their fields of research and impacting the lives of Kentuckians.
Their work addresses key issues impacting the Commonwealth, like cancer, Alzheimer's disease and diabetes. They also offer new perspectives on history by finding ways to preserve our collective memory and better understand it.
When you think of how scientists test new drugs to fight cancers, you probably think of a traditional lab setting. However, one UK researcher is using computers to evaluate how those drugs work in the body.
"Very broadly, what I do is computational biology and high-performance computing. So any problem in biology that you can compute an answer, especially if it needs a lot of computing resources, I am always happy to tackle it," said Sally Ellingson, Ph.D.
Ellingson is an assistant professor at the Institute for Biomedical Informatics in the University of Kentucky College of Medicine. She also works with the Cancer Research Informatics Shared Resource Facility at the UK Markey Cancer Center.
"Most of my research has to do with predicting whether molecules will bind to proteins, and that's used in drug research," said Ellingson.
Ellingson uses a calculation called molecular docking to test a large number of compounds to see if they'll bind to proteins. As part of the process, she creates a 3D visualization of the protein and the chemical compound. Ellingson uses algorithms to place the compound and score its interaction with a protein.
"The drug twists and turns in the protein binding pocket, and snapshots of these interactions have a quick scoring function that says how well we think it's doing," said Ellingson.
One of Ellingson's current projects looks at predicting protein structures with novel mutations. The information can be used to study diseases that affect underrepresented sections of the population.
"For example, say a cancer panel shows a mutation in a couple of people that's never been studied. We don't know yet if it's important," said Ellingson. "It's not a scenario where you could feasibly put a bunch of money into solving the protein structure. But a computational pipeline that does this by clicking a few buttons offers a cost-effective, scientific approach."
Ellingson also worked on a first-of-its-kind study that found an increase in specific mutations in certain lung cancer cells in patients from Appalachian Kentucky versus the general U.S. population. The findings also highlighted the importance of developing personalized treatment approaches for the disease.
As a computational scientist, Ellingson wanted to do applied research to benefit society. She credits good mentors for encouraging her to follow her interests in math and biology, which led to a career in high-performance computing while guiding her on a path that makes a difference.
"Some of the mentors who made a big impact for me while I was going through school were through Supercomputing Conference programs that were set up to do outreach with diversity and inclusion in mind," said Ellingson. "They helped me realize the opportunities that were available and made me believe that I could do it."
Now, Ellingson continues to give back to the same programs that helped her. She is the chair of the Students@SC program at the International Conference for High Performance Computing, Networking, Storage and Analysis.
"I want to give back in ways that helped me and always think about diversity and inclusion in all aspects of how I bring opportunities to students," said Ellingson. "I make sure the types of programming that we bring to them make underrepresented students feel more included and know that they belong, this is something they can do."
In 2016 and 2017, Ellingson took a group of UK students on an internship at the prestigious Lawrence Berkeley National Lab in California. It's one of the 17 national laboratories in the U.S. Department of Energy's Office of Science and boasts 16 Nobel Prizes. Ellingson will again be taking students there this summer to advance ongoing research at the UK Markey Cancer Center in collaboration with the lab.
"Teams of students were able to advance our cancer-related projects at the Berkeley Lab. It's been my most rewarding experience," said Ellingson. "We had access to the their advanced computing facilities and were hosted by staff scientists who co-mentored students with me."
Ellingson hopes future women in research find the same type of success.
"My advice is to seek out mentors. Look for opportunities through conferences and professional organizations in your field. My desire is to give back and help people find their way. I know there are a lot of people like that out there," said Ellingson. "And if you're a woman in computing, especially with an interest in health-related research, you can do it! And feel free to reach out to me for advice."