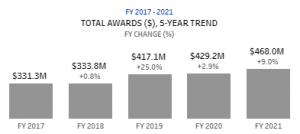 University of Kentucky Funding for FY21
Grant & contract awards to UK totaled $468 million, an increase of $38.8 million from FY20 (9% increase)
Federal agencies awarded UK $281.2 million, 60.1% of UK's total awards

National Institutes of Health (NIH) grants totaled $176.4 million
National Science Foundation (NSF) grants totaled $26.6 million

State agencies awarded UK $108 million
Industry awarded UK $28.6 million
Research Expenditure Rankings
Based on FY19 research expenditures totaling $410.6 million, UK ranks:
63rd among 624 public and private universities
42nd among 394 public institutions
These rankings were released in January 2021. The National Science Foundation (NSF), through the National Center for Science and Engineering Statistics (NCSES), publishes the Higher Education Research and Development (HERD) Survey each year ranking the top universities according to what they spend on research. The HERD survey is considered to be the primary source of information on R&D expenditures within academia. For more information, see NSF Publications & Data.
ASTeCC Campus Incubator
20 companies located on-site
65 private company employees
10 faculty R&D labs
5 university centers
64 graduate companies since 1994
IP Development, Patents, Licenses in FY20
117 disclosures
165 patent applications filed
33 new patents issued
742 worldwide patent assets
29 licenses and options executed
6 new start-up companies affiliated with UK technology
$2,943,622 gross royalty income
Licensing Income & Startups Rankings
According to the Association of University Technology Managers (AUTM) FY18 survey, UK ranks:
23rd among public universities in the number of startups created (8)
42nd among public universities in licensing income ($2,345,029)
These rankings were released in November 2018. For more information, see AUTM.