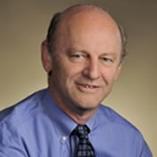 Alan Daugherty, Ph.D., D.Sc., F.A.H.A.
Associate Vice President for Research Core Facilities
Professor, Physiology and Medicine, College of Medicine
Dr. Daugherty is the Gill Foundation Chair of Preventive Cardiology, director of the Saha Cardiovascular Research Center, chair of the Department of Physiology, and senior associate dean for research in the College of Medicine. He serves as editor-in-chief of the American Heart Association's Arteriosclerosis, Thrombosis and Vascular Biology (ATVB) journal. His research focuses on molecular mechanisms of vascular diseases, including atherosclerosis and aortic aneurysms.
Within the Office of the Vice President for Research, Dr. Daugherty's role is:
Oversight of Research Service Core Facilities

Facilitates operations of Research Service Core Facilities

Facilitates operations of the Division of Laboratory Animal Resources (DLAR)