Applications for the UK Sustainability Challenge Grant Program Now Being Accepted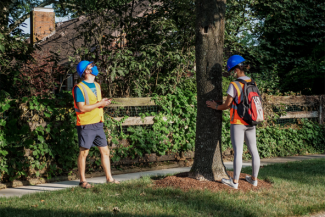 The Sustainability Challenge Grant Program is designed to engage multidisciplinary teams from the university community to foster scholarly, creative and research projects that promote sustainability and advance field(s) of study. Sustainability, in this context, is intended to convey the need to pursue activities that are ecologically sound, socially just and economically viable.
Applications for the University of Kentucky Sustainability Challenge Grant Program are being accepted now through May 28, 2021. Total project funds available are expected to be $200,000 with individual projects eligible to receive up to $50,000. Application materials can be found on the UK Sustainability website.
This year, program leaders are encouraging proposals that intersect with challenges that have emerged during the pandemic and/or those related to the diversity, equity and inclusion efforts of the university.
"This program has been such an important component of our sustainability efforts over the past six years, and we are very excited about the potential it has to serve as support for our faculty and staff who are interested in using sustainability as a framework for engaging with challenges created or worsened by the pandemic, including those connected to diversity, equity and justice," said Shane Tedder, UK's sustainability officer, and co-coordinator for the program.
In the six years of the program to date, 43 projects have been awarded a total of $1.15 million to pursue a wide range sustainability-driven projects on campus and beyond.
"The Sustainability Challenge Grant provides a unique opportunity for exploring multidisciplinary and collaborative ideas related to sustainability," said Helen Turner, faculty member in the School of Interiors and co-chair of the President's Sustainability Advisory Committee. "As co-chair of the President's Sustainability Advisory Committee and a recipient of Sustainability Challenge Grants in previous years, I have seen and experienced the impact of this program on the campus, the community, and the individuals involved."
The 2020 Sustainability Challenge Grant winners were:
Building Community through Innovation and Sustainability of Kentucky's Forest

Evaluating Twenty Years of Urban Reforestation in Lexington

Sustainable Campus Electronics Recycling Program at the University of Kentucky

Place Setting: Enhancing Sustainable Approaches to Food Security and Community Engagement

Research Innovators in Sustainable Energy (RISE)

Aerated manure compost facility for the smaller horse-farm operation

Coordinating and Assisting the Reuse of Assistive Technology in Rural Appalachian Communities

Preparing our Urban Forests for our Changing Climate

Designing for Well-being: Mindful Oasis. Reimagining Gatton Student Center Botanical Gardens

Honoring Kentucky's Agricultural Excellence
The program is a collaborative effort of the President's Sustainability Advisory Committee, the Tracy Farmer Institute for Sustainability and the Environment and the Office of Sustainability. Funding support for the program is provided by the offices of the Executive Vice President for Finance and Administration, the Provost and the Vice President for Research as well as the Student Sustainability Council.
For more information visit www.uky.edu/sustainability/sustainability-challenge-grants.